Christmas time is cookie time, and these chewy mixed nuts cookies are one of our fave healthy cookie recipes for winter. They're gluten-free, grain-free, sugar-free, and are high in fiber.
The holidays are a great time to play with the little ones, so bake a fresh batch of these yummy cookies for munching, dunking in milk … and save some for Santa!
Each cookie only has 27 calories, but they provide a wide range of vitamins and minerals, including vitamins A and E, magnesium, and selenium, plus important phytochemicals. Their ingredients help support immune function, boost metabolism, promote a healthy gut microbiome, and relieve inflammation.
From the Shop
Gluten-Free Chewy Mixed Nuts Cookies Recipe
Prep Time: 5 min | Cook Time: 10 min | Yields: 32 cookies
+ 2 1/2 cups mixed nut flour (almonds, cashews, walnuts, hazelnuts, macadamia …)
+ 2 tbsp ghee, melted (DIY recipe here)
+ 1/4 cup date syrup (DIY recipe here)
+ 1/4 teaspoon sea salt
+ 1/2 tsp baking soda
+ 1 tsp apple cider vinegar
+ 1/2 tsp cinnamon
+ 1/2 tsp pumpkin pie spice
+ homemade chocolate, for drizzling on top (optional)

Preheat oven to 350°F (180°C). In a large bowl, combine the flour, spices, sea salt, and baking soda. In a small bowl, whisk together the melted ghee, date syrup, and vinegar. Pour the wet ingredients into the dry and mix until combined. Drop the dough by teaspoons, 1 inch apart, onto one baking sheet, then use your hands to gently flatten and shape them.
Bake in the hot oven for 10 minutes until golden. Let cool for 2 minutes and then drizzle chocolate over cookies. Allow chocolate to set completely and enjoy!
| | | | |
| --- | --- | --- | --- |
| calories | carbs | fat | protein |
| 27 | 2.7 g | 1.8 g | 0.5 g |
| | |
| --- | --- |
| calories | 27 |
| carbs | 2.7 g |
| fat | 1.8 g |
| protein | 0.5 g |
Baked avocado boats with eggs and smoked salmon are a match made in brunch heaven! Not only is this recipe healthy, but it is also gluten-free …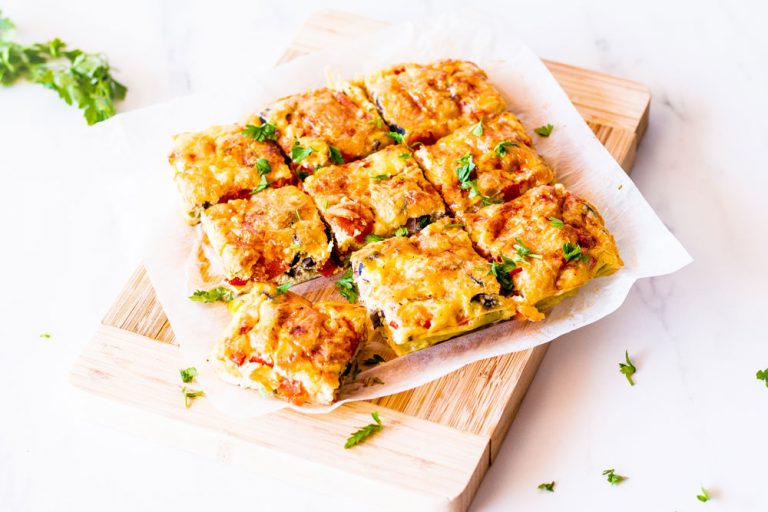 Delicious hot or cold, this easy 30-Minute Baked Egg Frittata with veggies is an efficient way to turn leftover ingredients into …
This garlic shrimp in tomato sauce with cauliflower mash is a low carb, easy to make recipe, that's packed full of flavor! Cauliflower mash …