This garlic shrimp in tomato sauce with cauliflower mash is a low carb, easy to make recipe, that's packed full of flavor! Cauliflower mash is a great substitute for mashed potatoes. It goes with just about everything and is an excellent source of vitamins and minerals. And because cauliflower is high in nutrients and contains some of almost every vitamin and mineral that you need, it helps your body's ability to heal and detoxify.
You can pair the creamy cauliflower mash with the super delicious garlic shrimp in tomato sauce for a filling, comforting meal, or serve them separately as easy side dishes.
From the Shop
Garlic Shrimp in Tomato Sauce with Cauliflower Mash Recipe
Prep Time: 10 min | Cook Time: 20 min | Serves: 2
Garlic shrimp
+ 1 tbsp olive oil
+ 8 ounces (225 g) medium peeled and deveined shrimps, from sustainable sources
+ 2 garlic cloves, minced
+ 1/4 teaspoon red pepper flakes
+ sea salt and freshly ground black pepper, to taste
+ 1/2 cup homemade tomato sauce

Cauliflower mash
+ 1 onion
+ 1 tbsp olive oil
+ medium cauliflower head, cut into florets
+ 1 tbsp butter or ghee (DIY recipe here)
+ 1 pinch dried nutmeg
+ sea salt and freshly ground black pepper, to taste

To make the garlic shrimp: In a large nonstick frying pan, heat the oil over medium heat. Add the shrimp, garlic, red pepper flakes and cook, stirring occasionally, until the shrimp is done, about 2 minutes. Add the tomato sauce, salt, pepper, reduce the heat and simmer, covered, for 5 minutes.
To make the cauliflower mash: Heat the olive oil in a large skillet over medium heat, stir onion and cook until tender, about 2 minutes. Stir in cauliflower florets and cook for about 10 minutes until tender. Add the cooked cauliflower, butter, nutmeg, salt, and pepper to a food processor and blend until smooth.
Serve the shrimp with the cauliflower mash and top with fresh basil. Enjoy!
| | | | |
| --- | --- | --- | --- |
| calories | carbs | fat | protein |
| 419 | 26.4 g | 22.2 g | 33.2 g |
| | |
| --- | --- |
| calories | 419 |
| carbs | 26.4 g |
| fat | 22.2 g |
| protein | 33.2 g |
Baked avocado boats with eggs and smoked salmon are a match made in brunch heaven! Not only is this recipe healthy, but it is also gluten-free …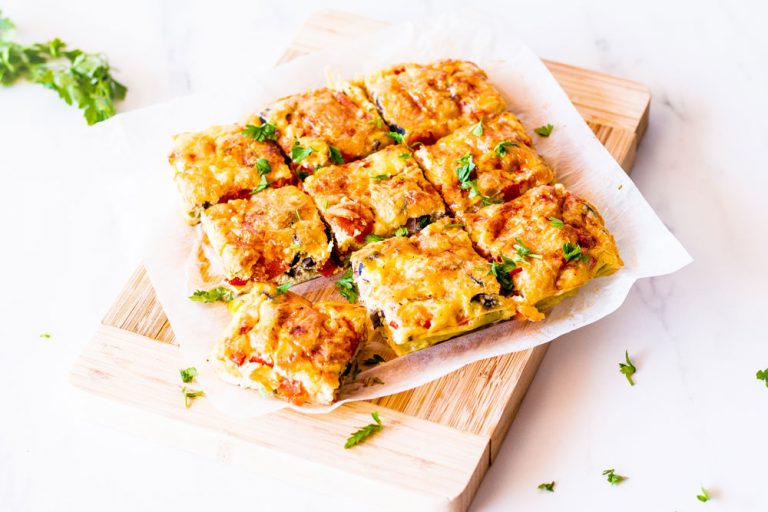 Delicious hot or cold, this easy 30-Minute Baked Egg Frittata with veggies is an efficient way to turn leftover ingredients into …
This garlic shrimp in tomato sauce with cauliflower mash is a low carb, easy to make recipe, that's packed full of flavor! Cauliflower mash …