Since the quality of the food we eat plays one of the most significant roles in hormonal balance, it's time you feed your body and soul with this buttery, garlicky, and oh so creamy shrimp fettuccine. One serving size provides you with enough saturated fat and cholesterol to get you through the day, plus the homemade tomato and garlic butter is pretty damn delicious!
We've all heard it before – butter is bad, saturated fats are "harmful fats", you should only eat fat-free and low-fat dairy …. and the list goes on. But the reality is that if you exclude saturated fats from your diet, you might develop a hormonal imbalance.
Our body needs short, medium, and long-chain fatty acids, including cholesterol and saturated fat, to create hormones and keep them in check. A diet that's rich in different kinds of fat also helps boost your metabolism, keeps inflammation levels low, and promotes weight loss.
Unfortunately, due to unhealthy diets and unrealistic weight loss goals, the number of women who experience hormone imbalances is growing, and some of the most common symptoms include weight gain, depression, anxiety, insomnia, hair loss, and low libido.
As long as you adjust the portion size to your health and weight loss goals, and eat a varied, well-balanced diet, you don't have to be afraid of saturated fat and cholesterol. Educate yourself and learn how to enjoy food without the guilt!
From the Shop
Garlic, Lemon & Tomatoes Shrimp Fettuccine Recipe
Prep Time: 10 min | Cook Time: 15 min | Serves: 2
Tomato & Garlic Butter
+ 4 tbsp butter or ghee (DIY recipe here)
+ 1 garlic clove
+ juice and zest of 1/2 small lemon
+ 1/4 cup sun-dried or oven-dried tomatoes (learn here how to make oven-dried tomatoes)
+ 1 tbsp fresh parsley, chopped
+ 1 tbsp green onion, chopped
+ 1/4 tsp chili powder
+ pinch of cayenne pepper
+ 1/4 tsp sea salt
+ freshly ground black pepper, to taste

Shrimp Fettuccine
+ 8 ounces (225 g) medium peeled and deveined prawns or shrimps, from sustainable sources
+ 4 ounces (115 g) fresh or dried fettuccine
+ green leafy vegetables, to serve

To make the tomato and garlic butter: Add the butter, garlic, lemon juice and zest, tomatoes, parsley, green onion and spices to a food processor and pulse until smooth. Season with sea salt and black pepper and pulse again. Refrigerate or set aside.
To make the fettuccine: In a large pot, bring water to a boil and season with sea salt. Add the fettuccine to the pot and stir the noodles immediately so that they don't stick together. If the pasta is fresh, cook for 1 to 3 minutes, stirring occasionally, and if the pasta is dried, cook for 10 to 14 minutes. Drain, add pasta back to warm pot and toss with 2 tablespoons of the tomato and garlic butter. Set aside.
To make the shrimp: Melt 2 tablespoons butter in a large skillet over medium heat. Add shrimp, and saute for a few minutes on each side until cooked through, about 2-3 minutes.
Divide the pasta among 2 bowls or plates and serve with shrimps and green leafy vegetables. Enjoy!
| | | | |
| --- | --- | --- | --- |
| calories | carbs | fat | protein |
| 515 | 34.4 g | 26.9 g | 33 g |
| | |
| --- | --- |
| calories | 515 |
| carbs | 34.4 g |
| fat | 26.9 g |
| protein | 33 g |
Baked avocado boats with eggs and smoked salmon are a match made in brunch heaven! Not only is this recipe healthy, but it is also gluten-free …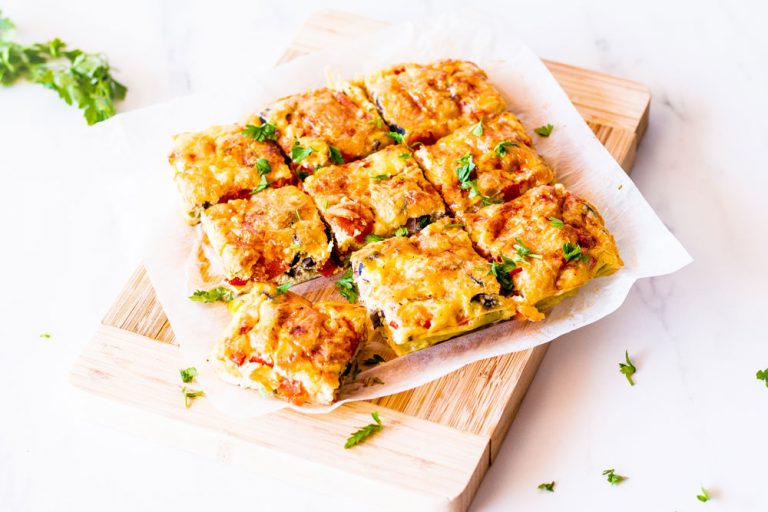 Delicious hot or cold, this easy 30-Minute Baked Egg Frittata with veggies is an efficient way to turn leftover ingredients into …
This garlic shrimp in tomato sauce with cauliflower mash is a low carb, easy to make recipe, that's packed full of flavor! Cauliflower mash …