This Fried Leftover Rice with Edamame & Veggies is a clean-out-the-fridge vegan and gluten-free stir-fry that turns leftovers into a quick and easy weeknight dinner!
It can accommodate practically any vegetable that's hanging around in the fridge and, if you're not vegan, adding leftover cooked shrimp, chicken, pork, or beef is a great way to boost the protein content.
Click here for more vegetarian recipe ideas, and if you're interested in learning how to organize your pantry, check our healthy pantry guidelines, part of the Beginner Series.
From the Shop
Fried Leftover Rice with Edamame & Veggies Recipe
Prep Time: 5 min | Cook Time: 17 min | Serves: 4
+ 2 tbsp olive oil, divided
+ 1 red onion, thinly sliced
+ 1 cup broccoli, chopped
+ 2 carrots, chopped
+ 1/2 cup shelled edamame beans
+ 1/2 cup corn whole kernel
+ 1 red bell pepper, thinly sliced
+ 2 garlic cloves, minced
+ 1 tbsp fresh ginger, peeled and minced
+ 3 cups rice, cooked
+ 1/4 cup tamari sauce
+ sea salt and freshly ground black pepper, to taste
+ fresh parsley, for garnish

Heat olive oil in a large skillet, then add onion and cook for 4-5 minutes until softened. Add broccoli, carrots, edamame, corn, bell pepper, and cook for about 5 minutes until the vegetables are crisp-tender, stirring frequently. Scoop the vegetables out of the skillet and set them aside.
In the same skillet, heat the remaining tablespoon of olive oil. Add the garlic, ginger, and rice, and let the rice fry without moving it for about 1 to 2 minutes. Turn over the rice, spread it, and let cook for a minute longer. Add the tamari sauce and return the vegetables to the skillet. Cook, stirring often, for about 3 more minutes. Sprinkle the parsley over the top and serve right away. Enjoy!
| | | | |
| --- | --- | --- | --- |
| calories | carbs | fat | protein |
| 347 | 56.8 g | 9.3 g | 10.6 g |
| | |
| --- | --- |
| calories | 347 |
| carbs | 56.8 g |
| fat | 9.3 g |
| protein | 10.6 g |
Baked avocado boats with eggs and smoked salmon are a match made in brunch heaven! Not only is this recipe healthy, but it is also gluten-free …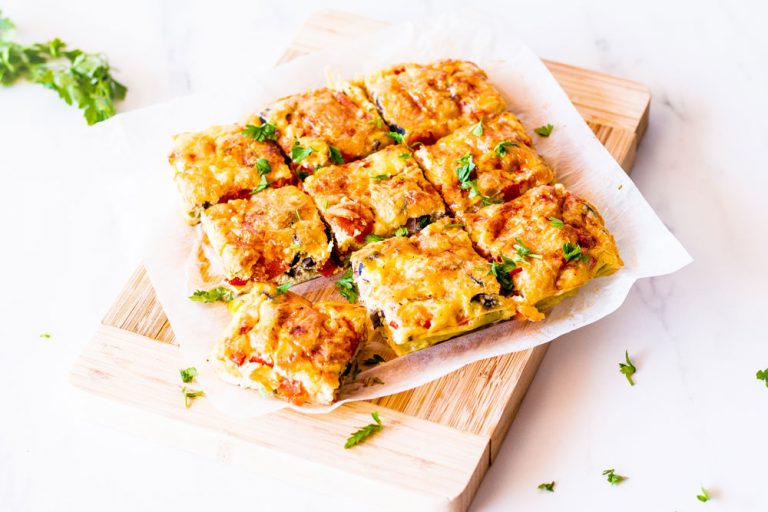 Delicious hot or cold, this easy 30-Minute Baked Egg Frittata with veggies is an efficient way to turn leftover ingredients into …
This garlic shrimp in tomato sauce with cauliflower mash is a low carb, easy to make recipe, that's packed full of flavor! Cauliflower mash …