Whether you're searching for a weeknight dinner or if you're tired of the same old canned tuna recipes, this Fresh Tuna Salad With Homemade Peanut Dressing has you covered. High-quality fresh tuna is a delicious source of healthy omega-3 fatty acids, protein and requires almost no effort in the kitchen.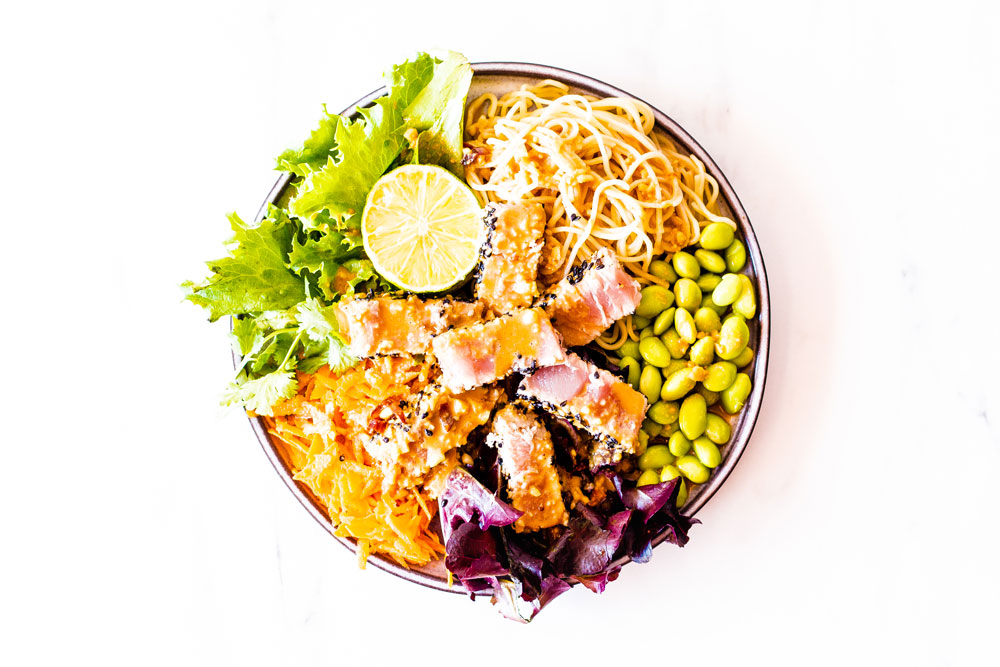 This yummy bowl is filled with egg noodles, edamame, lots of veggies and is packed full of nutritious goods. It's a quick and easy-to-make recipe, and the homemade Thai peanut dressing takes this healthy tuna salad to the next level and makes it irresistible!
From the Shop
Fresh Tuna Salad With Homemade Peanut Dressing Recipe
Prep Time: 15 min | Cook Time: 10 min | Serves: 4
Peanut dressing:
+ 1/4 cup water
+ 1/4 cup peanut butter
+ 3 tbsp soy sauce
+ 2 tbsp brown sugar
+ 2 garlic cloves, minced
+ juice of 1/2 lime
+ 1/2 chili pepper, thinly sliced

Tuna salad:
+ 1/2 tbsp coconut oil
+ 4 tuna steaks
+ sea salt and freshly ground black pepper, to taste
+ 1 tsp black sesame seeds
+ 1 tsp white sesame seeds
+ 8 oz / 225 g egg noodles
+ 2 carrots, shredded
+ 1 cup edamame beans
+ 2 cups lettuce
+ lime wedges, to serve

To make the peanut sauce: Place all the sauce ingredients into a jar, cover and shake until well combined.
To cook edamame: Bring a pot of water to a boil, add salt and in-shell edamame and cook until the beans inside the pods are tender, about 5 minutes. Drain and rinse with cold water to cool. To shell the beans, gently squeeze the pods with your fingers to release them.
To cook the tuna: In a large frying pan, melt the coconut oil over high heat. Spread the sesame seeds out on a plate, season tuna steaks with sea salt and pepper, then press into the sesame seeds to coat. Once the oil is hot, cook the steaks for about 90 seconds on each side. Remove from heat and set aside.
Cook the egg noodles according to package directions, omitting salt and fat. Drain and set aside.
To assemble, divide the noodles between 4 plates or bowls, add the carrots, edamame, lettuce, tuna, and drizzle peanut dressing on top. Serve with lime wedges and enjoy!
| | | | |
| --- | --- | --- | --- |
| calories | carbs | fat | protein |
| 440 | 29.8 g | 14 g | 49.6 g |
| | |
| --- | --- |
| calories | 440 |
| carbs | 29.8 g |
| fat | 14 g |
| protein | 49.6 g |
Baked avocado boats with eggs and smoked salmon are a match made in brunch heaven! Not only is this recipe healthy, but it is also gluten-free …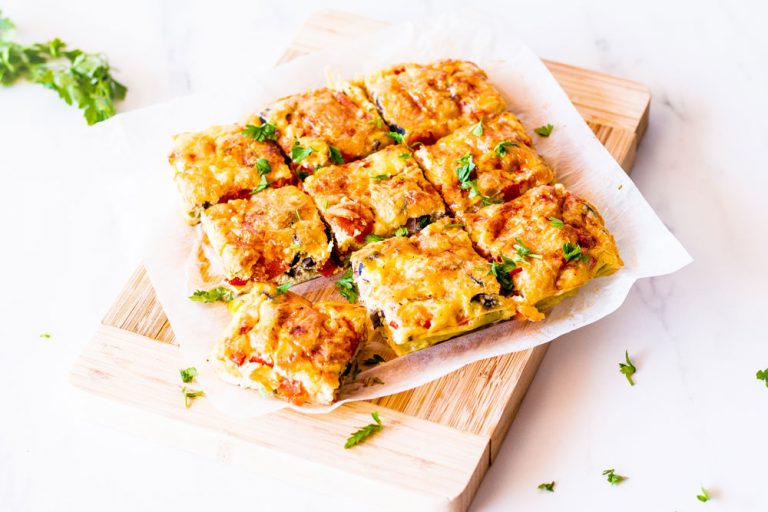 Delicious hot or cold, this easy 30-Minute Baked Egg Frittata with veggies is an efficient way to turn leftover ingredients into …
This garlic shrimp in tomato sauce with cauliflower mash is a low carb, easy to make recipe, that's packed full of flavor! Cauliflower mash …