This Fall Harvest Vegetable Soup Recipe is full of hearty vegetables like sweet potatoes, butternut squash, and more. It's thick, delicious and, even though it's low in calories, it's still super-satisfying and filling. Whip up a warm batch of this comforting soup and cozy up on the couch with a good book or movie.
Feel free to adapt this recipe to your personal preferences and use any seasonal vegetables you have on hand. For some additional help, check our Guide to Seasonal Veggies Here (members only)
From the Shop
Fall Harvest Vegetable Soup Recipe Recipe
Prep Time: 5 min | Cook Time: 25 min | Serves: 6
+ 6 cups vegetable stock
+ 1 big onion, thinly sliced
+ 3 garlic cloves, minced
+ 1 inch / 2.5 cm fresh ginger
+ 2 tbsp olive oil
+ 1 medium sweet potato, roughly chopped
+ 2 carrots, roughly chopped
+ 1 medium butternut squash, peeled, seeded and diced
+ 1 cup pinto beans, cooked (learn here how to soak and cook beans and legumes)
+ 2 cups watercress, chopped
+ 1 tsp cumin
+ sea salt and freshly ground black pepper, to taste
+ roasted pumpkin seeds (pepitas), to serve
Add the olive oil to a soup pot and saute the onions, garlic, and ginger over medium-high heat for about 2-3 minutes.
Pour in vegetable stock, bring to a boil, then add sweet potato, carrots, butternut squash, and beans. Reduce heat and simmer until cooked, about 15-20 minutes.
Puree soup using an immersion blender and season with cumin, salt, and pepper.
Bring to a boil, then stir in the watercress and remove from heat. Garnish with pepitas and enjoy!
| | | | |
| --- | --- | --- | --- |
| calories | carbs | fat | protein |
| 152 | 23.9 g | 7.1 g | 4.3 g |
| | |
| --- | --- |
| calories | 152 |
| carbs | 23.9 g |
| fat | 7.1 g |
| protein | 4.3 g |
Baked avocado boats with eggs and smoked salmon are a match made in brunch heaven! Not only is this recipe healthy, but it is also gluten-free …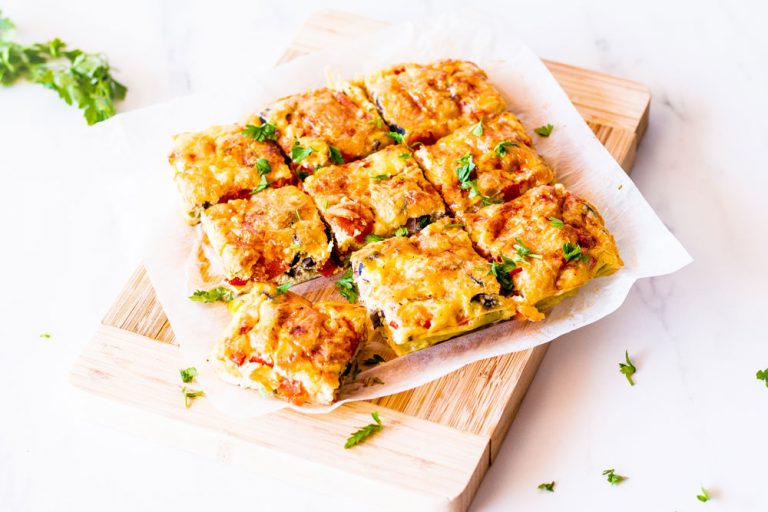 Delicious hot or cold, this easy 30-Minute Baked Egg Frittata with veggies is an efficient way to turn leftover ingredients into …
This garlic shrimp in tomato sauce with cauliflower mash is a low carb, easy to make recipe, that's packed full of flavor! Cauliflower mash …