This egg and potato salad tossed in a lemony Dijon dressing with fresh herbs, is perfect for when the weather starts to warm up. It pairs beautifully with boiled eggs or any grilled meat or fish, and it's super easy to make!
Each serving has 414 calories, and you can easily adapt this recipe to your daily calorie needs. If you wish to reduce the calories and/or carbs, adjust the number of potatoes per serving. To add more protein, replace the egg with meat, fish …. or sprinkle feta cheese on top!
From the Shop
Egg & Potato Salad with Herbs & Lemon Dijon Vinaigrette Recipe
Prep Time: 10 min | Cook Time: 15 min | Serves: 2
+ 8.5 oz (240 g) baby potatoes, halved
+ 7 oz (200 g) green beans, trimmed
+ 1/2 cup green peas
+ 2 eggs, boiled
+ 2-3 radishes, thinly sliced
+ 1/2 cucumber, thinly sliced
+ 4-5 cherry tomatoes, cut into quarters
+ 1 tbsp fresh chives, finely chopped
+ a handful of fresh dill

Lemon Dijon vinaigrette
+ 3 tbsp olive oil
+ 1 tbsp lemon juice
+ 1/2 tsp Dijon mustard
+ 1 garlic clove, minced
+ 1/4 tsp freshly ground black pepper
+ 1/8 tsp sea salt

To make the salad: Place potatoes in a large saucepan, add water to cover and bring to a boil. Reduce heat and let cook, uncovered, until tender, 10-15 minutes. Meanwhile, steam green beans and peas for about 5-10 minutes.
To make the lemon Dijon vinaigrette: Whisk lemon juice, mustard, and garlic clove in a small bowl and then slowly whisk in olive oil. Season with salt and pepper and drizzle on top of the salad.
Drain potatoes, beans, and green beans. Slice boiled eggs and arrange all the salad ingredients on a serving plater. Sprinkle with fresh chives and dill, drizzle salad dressing on top, and serve. Enjoy!
| | | | |
| --- | --- | --- | --- |
| calories | carbs | fat | protein |
| 414 | 37.8 g | 26 g | 12.6 g |
| | |
| --- | --- |
| calories | 414 |
| carbs | 37.8 g |
| fat | 26 g |
| protein | 12.6 g |
Baked avocado boats with eggs and smoked salmon are a match made in brunch heaven! Not only is this recipe healthy, but it is also gluten-free …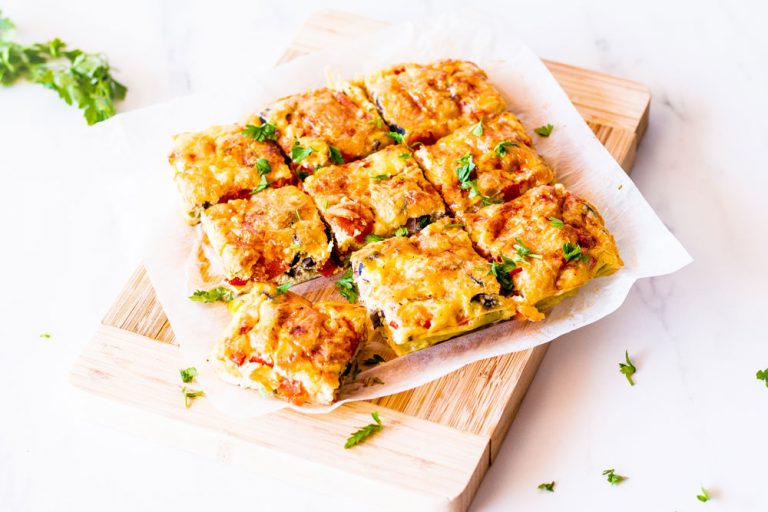 Delicious hot or cold, this easy 30-Minute Baked Egg Frittata with veggies is an efficient way to turn leftover ingredients into …
This garlic shrimp in tomato sauce with cauliflower mash is a low carb, easy to make recipe, that's packed full of flavor! Cauliflower mash …