Talk about a diet savior! This Easy Vegan Red Bean Soup is hearty, filling, and a smart way to add more veggies to your day. This recipe is packed with tons of color, texture, and flavor. And thanks to a healthy dose of beans, it's also super filling.
Healthy eating is all about planning, and soup is one of those staples you should always have either in your fridge or freezer. Soup is comforting, makes you feel satiated, and studies show that eating a bowl of soup before your meal helps you cut down calories and make better food choices.
From the Shop
Easy Vegan Red Bean Soup Recipe
Prep Time: 5 min | Cook Time: 30 min | Serves: 8
+ 6 cups homemade vegetable stock
+ 1 cup red beans, cooked (learn here how to soak and cook beans and legumes)
+ 2 small potatoes
+ 1 sweet potato
+ 2 medium tomatoes
+ 1 carrot
+ 2 celery stalks
+ 1 leek
+ 1 onion
+ 2 garlic cloves
+ 2 bay leaves
+ 3 sprigs fresh thyme
+ sea salt and freshly ground black pepper, to taste
+ fresh parsley, to serve
+ olive oil, for drizzling on top
Pour the vegetable stock, bay leaves, and fresh thyme into a large saucepan and bring to a boil.
Chop all the vegetables and, once the water is boiling, stir in the veggies and beans. Bring water to a boil, then simmer for about 30 minutes until cooked.
Remove from heat, take out the bay leaves and thyme sprigs, and season with sea salt and pepper. Sprinkle parsley on top and serve with a drizzle of olive oil. Enjoy!
| | | | |
| --- | --- | --- | --- |
| calories | carbs | fat | protein |
| 130 | 17.9 g | 5.5 g | 3.7 g |
| | |
| --- | --- |
| calories | 130 |
| carbs | 17.9 g |
| fat | 5.5 g |
| protein | 3.7 g |
Baked avocado boats with eggs and smoked salmon are a match made in brunch heaven! Not only is this recipe healthy, but it is also gluten-free …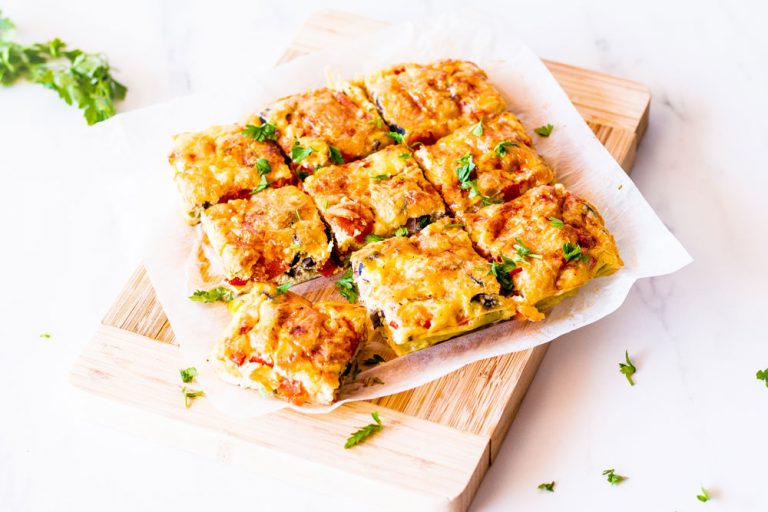 Delicious hot or cold, this easy 30-Minute Baked Egg Frittata with veggies is an efficient way to turn leftover ingredients into …
This garlic shrimp in tomato sauce with cauliflower mash is a low carb, easy to make recipe, that's packed full of flavor! Cauliflower mash …