This one-pot chicken stew is healthy but also a hearty meal. It's a comfort food classic designed to satisfy your taste buds, and it's also an easy family dish that's ready in just 45 minutes.
This stew is brimming with chopped veggies and Mediterranean flavors like garlic, bay leaves, and thyme, plus our homemade vegetable stock for extra flavor and richness. Serve it with a loaf of your favorite crusty bread or our Mediterranean-style bread.
From the Shop
Easy One-Pot Chicken Stew Recipe
Prep Time: 5 min | Cook Time: 40 min | Serves: 2
+ 2 tomatoes
+ 3 cups homemade vegetable stock
+ 2 tbsp olive oil
+ 8 oz (225 g) chicken breasts, cut into small pieces
+ 1 onion, finely chopped
+ 2 bay leaves
+ 3-4 thyme sprigs
+ 2 garlic cloves, minced
+ 1 tbsp tomato paste
+ 1 tsp paprika
+ sea salt and freshly ground black pepper, to taste
+ 2 potatoes, cut into squares
+ 1 carrot, sliced
+ 1 celery stalk, thinly sliced
+ 1/2 cup frozen or fresh peas

Blend the tomatoes with the stock and set aside.
In a pot, heat 1 tablespoon olive oil on high heat, then sear the chicken until the pieces are nice and golden, 4-6 minutes.
Remove the chicken, lower the heat to medium-low, then add the remaining olive oil as well as the onion, bay leaves, and thyme leaves. Cook the onion until it's soft and translucent then add the garlic, tomato paste, paprika, and season with salt and pepper. Cook for another minute.
Add the blended tomato with the stock, the chicken, potatoes, carrots, and celery. Bring everything to a boil then simmer for 30 minutes, covered.
Finally, add the peas and cook for another 2 minutes. Remove from heat, serve and enjoy!
| | | | |
| --- | --- | --- | --- |
| calories | carbs | fat | protein |
| 597 | 55.9 g | 23.9 g | 42 g |
| | |
| --- | --- |
| calories | 597 |
| carbs | 55.9 g |
| fat | 23.9 g |
| protein | 42 g |
Baked avocado boats with eggs and smoked salmon are a match made in brunch heaven! Not only is this recipe healthy, but it is also gluten-free …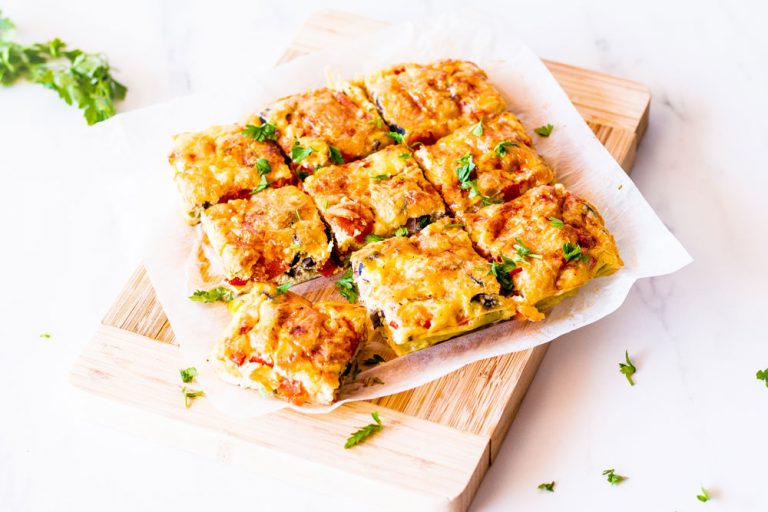 Delicious hot or cold, this easy 30-Minute Baked Egg Frittata with veggies is an efficient way to turn leftover ingredients into …
This garlic shrimp in tomato sauce with cauliflower mash is a low carb, easy to make recipe, that's packed full of flavor! Cauliflower mash …