If you're trying to lose those last few pounds and reduce bloating for bikini season, cooking yourself a high-protein, low-carb dinner, like these easy melt in your mouth oven-baked ribs, can do wonders for your figure.
When summer hits, it's time to leave the carb-heavy comfort foods of winter behind. Healthy low-carb eating gets easier in the summer months thanks to the abundance of fresh produce and a focus on simply prepared, flavorful meals. Just make sure you balance out your meat and protein dishes with a colorful side salad, and you will wake up bloat-free and feeling amazing!
From the Shop
Easy, Melt In Your Mouth Oven-Baked Ribs Recipe
Prep Time: 5 min | Cook Time: 2 hours | Serves: 6
+ 2 to 2 1/2 pounds (1 kg) pork baby back ribs

Dry rub:
+ 1/4 cup whole-spelt flour
+ 2 tsp onion powder
+ 1 tsp garlic powder
+ 1 tsp sea salt
+ 2 tsp dried oregano
+ 2 tsp paprika
+ 1 tsp dried thyme
+ 1/2 tsp cayenne pepper
+ 1/2 tsp freshly ground black pepper

Tamari and ginger sauce:
+ 1/4 cup tamari sauce
+ 1 garlic clove, minced
+ 1 tsp fresh ginger, minced
+ 2 tbsp coconut sugar
+ 1/4 cup water

Preheat oven to 350ºF / 180º C. Remove the membrane that's located on the back of the rib rack and cut between the bones into individual ribs. Mix the dry rub ingredients in a small bowl and generously apply a coating of dry rub to all sides of the ribs. Spread the ribs evenly on a foil-lined baking sheet and bake for about 30 minutes, until golden.
Reduce oven temperature to 300ºF / 150ºC. Mix the tamari and ginger sauce ingredients in a medium bowl. Brush the ribs with half the sauce and bake for 45 to 60 minutes. Remove from oven, flip ribs over, brush with the remaining sauce and bake until tender and juicy on the inside and crispy on the outside, about 45 to 60 more minutes. Enjoy!
| | | | |
| --- | --- | --- | --- |
| calories | carbs | fat | protein |
| 519 | 11 g | 39.9 g | 28 g |
| | |
| --- | --- |
| calories | 519 |
| carbs | 11 g |
| fat | 39.9 g |
| protein | 28 g |
Baked avocado boats with eggs and smoked salmon are a match made in brunch heaven! Not only is this recipe healthy, but it is also gluten-free …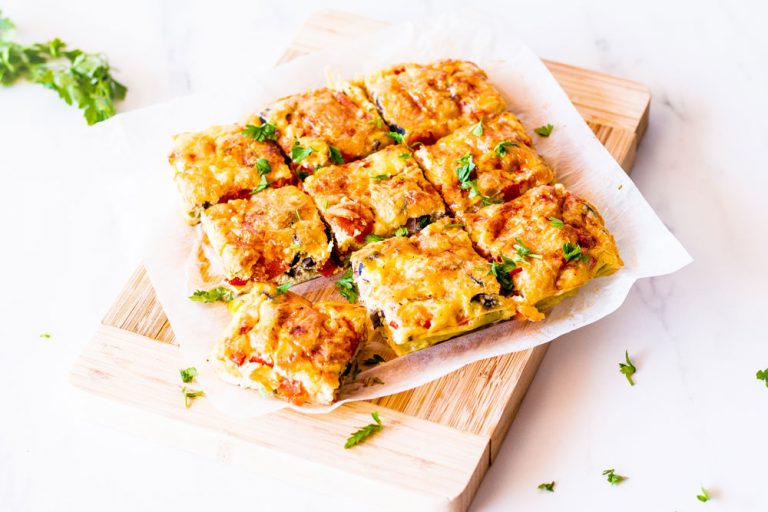 Delicious hot or cold, this easy 30-Minute Baked Egg Frittata with veggies is an efficient way to turn leftover ingredients into …
This garlic shrimp in tomato sauce with cauliflower mash is a low carb, easy to make recipe, that's packed full of flavor! Cauliflower mash …