Quesadillas are a crowd favorite, and this easy chicken quesadilla recipe is a quick, filling, delicious meal that you can make for lunch, dinner, or breakfast in under 30 minutes.
This recipe is packed with protein, phosphorus, selenium, niacin, and vitamin B6. And these nutrients are great allies for weight management. They help keep both your energy levels and your metabolism high, which increases your ability to burn calories throughout the day.
If you're vegetarian, you can replace the chicken with beans and avocado. And if you're intolerant to gluten, you can make this recipe with gluten-free corn tortillas.
From the Shop
Easy Chicken Quesadilla Recipe
Prep Time: 5 min | Cook Time: 15 min | Serves: 2
+ 1 tbsp olive oil
+ 2 garlic cloves, minced
+ 1 bell pepper, seeded and thinly sliced (we used 1/3 green + 1/3 red + 1/3 yellow)
+ 1 medium tomato, finely chopped
+ 1/2 lb (225 g) chicken breasts, boneless skinless and sliced into strips
+ 1/4 tsp chili powder
+ 1/4 tsp ground cumin
+ 1/2 tsp dried oregano
+ sea salt and freshly ground black pepper, to taste
+ 1/2 fresh cilantro, roughly chopped
+ 1/4 cup cheddar cheese, grated
+ 4 tortillas (homemade recipe here)
Heat the oil in a frying pan over medium-high heat. Add garlic, bell pepper, tomato, chicken, and season with chili, cumin, oregano, sea salt, and pepper. Cook for 6 to 8 minutes or until chicken is cooked through. Remove from heat and stir in cilantro.
Sprinkle 1 tortilla with 1 tablespoon cheese and top with half of the chicken mixture. Sprinkle with another tablespoon of cheese and top with another tortilla. Repeat with remaining ingredients to make 1 more quesadilla.
Cover quesadillas with foil, transfer to the oven and cook until the cheese melts, about 5 minutes. Serve quesadillas with a green salad or guacamole and enjoy!
| | | | |
| --- | --- | --- | --- |
| calories | carbs | fat | protein |
| 472 | 29.5 g | 21.8 g | 40.4 g |
| | |
| --- | --- |
| calories | 472 |
| carbs | 29.5 g |
| fat | 21.8 g |
| protein | 40.4 g |
Baked avocado boats with eggs and smoked salmon are a match made in brunch heaven! Not only is this recipe healthy, but it is also gluten-free …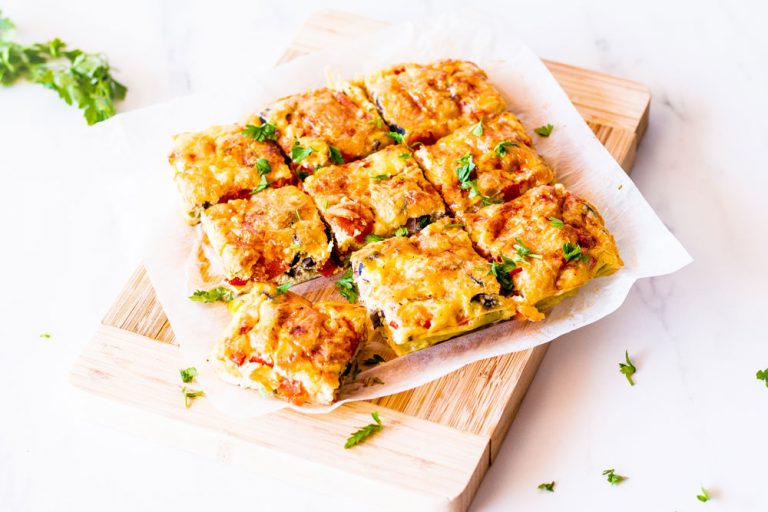 Delicious hot or cold, this easy 30-Minute Baked Egg Frittata with veggies is an efficient way to turn leftover ingredients into …
This garlic shrimp in tomato sauce with cauliflower mash is a low carb, easy to make recipe, that's packed full of flavor! Cauliflower mash …