We all know that refined and processed foods, including sugar, increase inflammation in the body and that chronic inflammation is at the root of most diseases. Having a batch of homemade date syrup in the fridge ensures that next time you feel like eating something sweet, you'll have a healthier option ready to go.
You can use this date syrup in pancakes, smoothies, muffins, or mix it with raw cocoa powder and hazelnuts to make a delicious chocolate spread!
If your goal is to live a long and healthy life, you must start making good food choices most of the time and focus on balance and moderation. When it comes to our diet, slowly replacing refined sugars with less refined alternatives and dried fruits is a great step in the right direction.
From the Shop
Homemade Date Syrup Recipe
Prep Time: 10 min | Cook Time: 0 min | Yields: 1 cup
+ 1 cup pitted dates
+ 1/2 vanilla bean
+ 1/2 cup water
+ pinch of sea salt

Cut the vanilla bean lengthwise in half and, with the back of the knife, scrape the pulp out of the pod. Place the water, dates, vanilla pulp, and sea salt in a food processor or blender and blend until smooth. Add more water if needed and store in a glass jar, in the fridge, for up to two weeks.
| | | | |
| --- | --- | --- | --- |
| calories | carbs | fat | protein |
| 31 | 8.4 g | 0 g | 0.3 g |
| | |
| --- | --- |
| calories | 31 |
| carbs | 8.4 g |
| fat | 0 g |
| protein | 0.3 g |
Chocolate Hazelnut Spread Recipe
Prep Time: 10 min | Cook Time: 10 min | Yields: 1 1/2 cups
+ 1 cup date syrup
+ 1 cup hazelnuts
+ 2 tbsp raw cocoa powder

Preheat oven to 300ºF / 150ºC. Place hazelnuts on a baking tray and roast for 10 minutes, stirring once after 5 minutes. Remove hazelnuts from the oven and let cool for 5 to 10 minutes.
Place the roasted hazelnuts in a food processor and process for 3 to 5 minutes until they turn into butter, stopping every minute or so to scrape the sides.
Mix in the cocoa powder, date syrup, and blend until smooth. Store in a glass jar in the fridge for up to two weeks. Enjoy!
| | | | |
| --- | --- | --- | --- |
| calories | carbs | fat | protein |
| 42 | 6.3 g | 2 g | 0.7 g |
| | |
| --- | --- |
| calories | 42 |
| carbs | 6.3 g |
| fat | 2 g |
| protein | 0.7 g |
Baked avocado boats with eggs and smoked salmon are a match made in brunch heaven! Not only is this recipe healthy, but it is also gluten-free …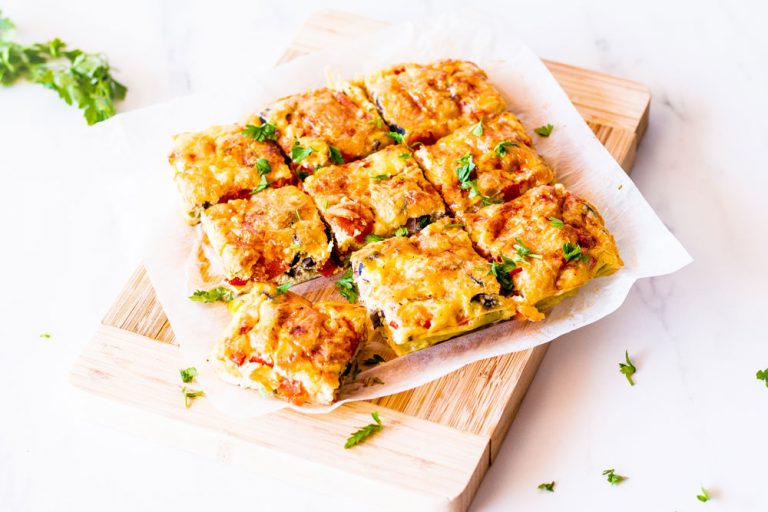 Delicious hot or cold, this easy 30-Minute Baked Egg Frittata with veggies is an efficient way to turn leftover ingredients into …
This garlic shrimp in tomato sauce with cauliflower mash is a low carb, easy to make recipe, that's packed full of flavor! Cauliflower mash …