If staying healthy and fit is at the top of your priority list, then you should try this Date-Sweetened Nut & Seed Granola recipe! Granola is a staple that everyone should know how to make, and this crunchy chai-spiced version is one of our personal favorites.
Made with a delicious blend of nuts, seeds, and aromatic spices, this gluten-free, sugar-free, and vegan granola is a tasty and nutritious option for breakfast, snack-time, or anytime in between. Along with its satisfying crunch, it's also rich in protein, healthy fats, fiber, and essential vitamins and minerals, making it an ideal choice for fueling your active lifestyle.
From the Shop
Date-Sweetened Nut & Seed Granola Recipe
Prep Time: 10 min | Cook Time: 45 min | Serves: 10
+ 1 cup Medjool dates, pitted
+ 2 tbsp peanut butter
+ 2 tbsp tahini
+ 1/2 cup water
+ 2 1/2 cups rolled oats
+ 1 cup nuts of choice (we used almonds, walnuts, cashews, and hazelnuts)
+ 1/2 cup seeds of choice (we used sunflower, flax, pumpkin, and hemp hearts)
+ 1 1/2 tsp ground cinnamon
+ 1 tsp ground ginger
+ 1/2 tsp ground cardamom
+ 1/4 tsp ground cloves
+ 1/4 tsp ground nutmeg
+ pinch of fine grain sea salt

Preheat oven to 300ºF (150ºC). In a food processor, process the dates, peanut butter, tahini, and water until smooth. Set aside.
In a large mixing bowl, add the remaining ingredients. Stir in the date-butter mixture until evenly coated.
Spread the granola on a lined baking sheet and bake for about 40-45 minutes, checking and stirring every 10 minutes.
Remove from the oven and let cool completely before storing. Enjoy!
| | | | |
| --- | --- | --- | --- |
| calories | carbs | fat | protein |
| 256 | 30.5 g | 13.2 g | 7.9 g |
| | |
| --- | --- |
| calories | 256 |
| carbs | 30.5 g |
| fat | 13.2 g |
| protein | 7.9 g |
Baked avocado boats with eggs and smoked salmon are a match made in brunch heaven! Not only is this recipe healthy, but it is also gluten-free …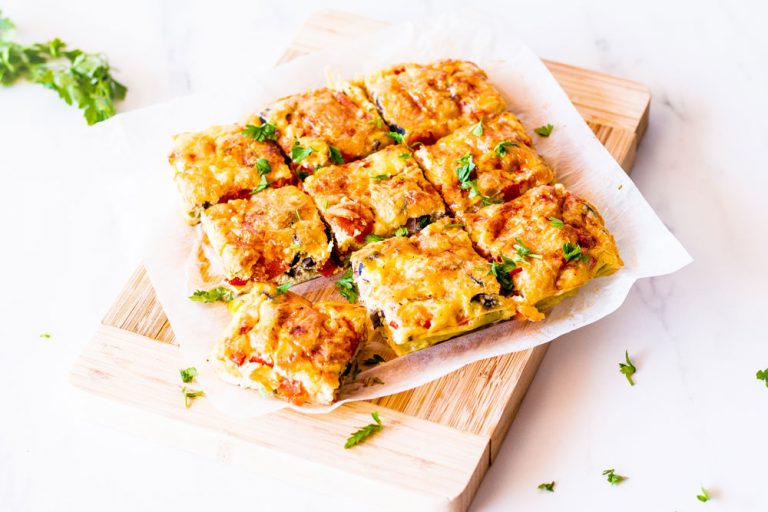 Delicious hot or cold, this easy 30-Minute Baked Egg Frittata with veggies is an efficient way to turn leftover ingredients into …
This garlic shrimp in tomato sauce with cauliflower mash is a low carb, easy to make recipe, that's packed full of flavor! Cauliflower mash …