Granola is one of the easiest things to throw together and works great as an on-the-go breakfast or snack. This wintery and oh so crunchy peanut butter chocolate granola is most definitely a favorite. Somehow pairing crunchy oats and nuts with the most decadent peanut butter chocolate just works. Who knew, right?!
A few tablespoons of honey or maple syrup is all you need to sweeten things up a bit so you won't feel guilty. Plus this dreamy granola has a high nutrient value and is very rich in minerals including iron, potassium, calcium, magnesium, zinc, and copper, and in vitamins E and B. 2/3 cup of granola equals one serving size and has approximately 300 calories.
From the Shop
Crunchy Peanut Butter & Chocolate Granola Recipe
Prep Time: 10 min | Cook Time: 40 min | Serves: 6
+ 2 cups old-fashioned rolled oats
+ 1 cup unsalted nuts (we used cashews, almonds, hazelnuts and walnuts)
+ 1/2 cup dried cranberries
+ 3 tbsp cacao nibs
+ 3 tbsp raw honey or pure maple syrup
+ 1 tbsp peanut butter
+ 1 tbsp coconut oil
+ 2 tbsp raw cacao powder
+ 1/2 tsp cinnamon
+ pinch of sea salt

Preheat the oven to 300ºF / 150ºC. Chop the nuts and place them in a large bowl. Mix in the rolled oats, cacao nibs, and dried cranberries.
In a small saucepan, melt the peanut butter with the honey and coconut oil over low heat. Once combined, add the cacao powder, cinnamon and a pinch of sea salt. Whisk together and then drizzle the creamy peanut butter chocolate on top of the oats blend.
Mix well until evenly coated and spread the granola onto a baking sheet in an even layer. Bake for 35 to 40 minutes, stirring every 10 minutes.
Once the granola has finished baking, remove from the oven and allow it to cool completely. Store in an airtight container, for up to 4 weeks. Enjoy!
| | | | |
| --- | --- | --- | --- |
| calories | carbs | fat | protein |
| 300 | 35 g | 16 g | 7 g |
| | |
| --- | --- |
| calories | 300 |
| carbs | 35 g |
| fat | 16 g |
| protein | 7 g |
Baked avocado boats with eggs and smoked salmon are a match made in brunch heaven! Not only is this recipe healthy, but it is also gluten-free …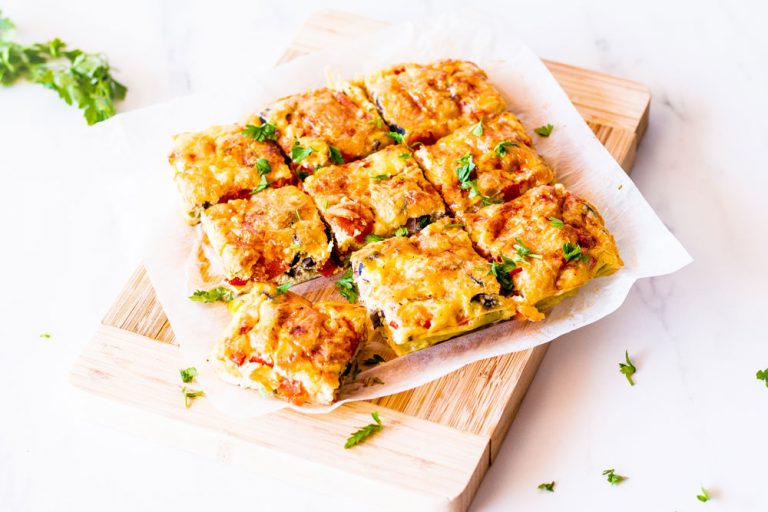 Delicious hot or cold, this easy 30-Minute Baked Egg Frittata with veggies is an efficient way to turn leftover ingredients into …
This garlic shrimp in tomato sauce with cauliflower mash is a low carb, easy to make recipe, that's packed full of flavor! Cauliflower mash …