If you're looking for a crunchy, spicy mid-morning snack that can give your metabolism a healthy boost and provide the minerals your body needs, then you should definitely give these nori chips a try!
When compared to other chips, these crisp nori chips are very low in calories and one sheet has 70 percent of the recommended daily intake of iodine, which influences greatly the functioning of the thyroid gland and helps control the body's base metabolic rate.
Sea vegetables have numerous health benefits but they're often neglected. They are a source of valuable nutrients and provide all the minerals and trace minerals your body needs. Plus, the minerals from sea vegetables are more bioavailable than other mineral sources.
To learn more about sea vegetables and how they can impact your health, check our superfoods section, part of the Beginner Series.
From the Shop
Crisp Nori Chips Recipe
Prep Time: 5 min | Cook Time: 15 min | Yields: 40 chips
+ 5 nori sheets
+ 2 tbsp coconut oil
+ 1/2 tsp coconut sugar
+ 1/2 tsp nutritional yeast
+ 1/4 tsp paprika
+ 1/4 tsp ground ginger
+ pinch sea salt
+ pinch cayenne pepper

Preheat oven to 300°F (150°C). Mix the coconut sugar, nutritional yeast, paprika, ground ginger, sea salt and cayenne pepper in a small bowl. Brush coconut oil onto one side of each seaweed sheet and sprinkle the seasoning mixture as evenly as possible on the oiled side.
Lay the nori sheets on a baking tray with the oiled side up and place in the oven. Let bake until dry and crispy, for about 15 minutes. Cut each sheet into 8 rectangular pieces, using kitchen scissors, and store for 1 or 2 days in an airtight container lined with paper towel. Enjoy!
Amount per 1/4 batch (10 chips)
| | | | |
| --- | --- | --- | --- |
| calories | carbs | fat | protein |
| 76 | 0.8 g | 6.9 g | 1.6 g |
| | |
| --- | --- |
| calories | 76 |
| carbs | 0.8 g |
| fat | 6.9 g |
| protein | 1.6 g |
Baked avocado boats with eggs and smoked salmon are a match made in brunch heaven! Not only is this recipe healthy, but it is also gluten-free …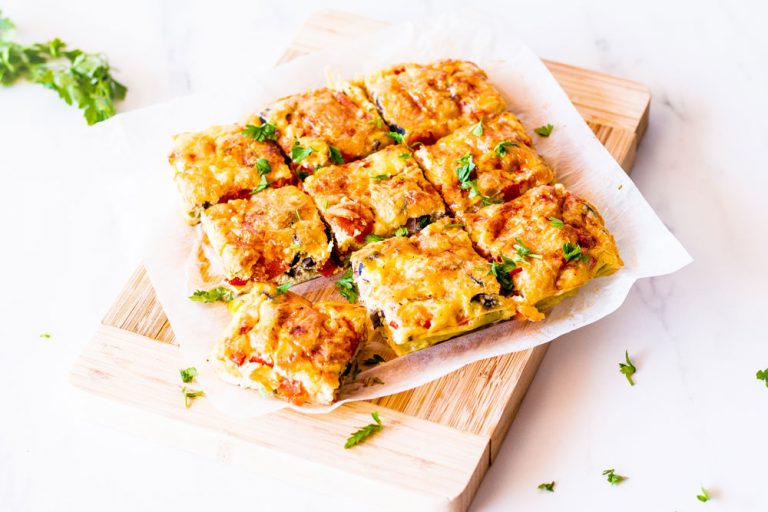 Delicious hot or cold, this easy 30-Minute Baked Egg Frittata with veggies is an efficient way to turn leftover ingredients into …
This garlic shrimp in tomato sauce with cauliflower mash is a low carb, easy to make recipe, that's packed full of flavor! Cauliflower mash …