Fall is the start of soup season and this creamy pumpkin and chestnut soup, filled with autumn produce and flavors, will surely warm you up and keep you satisfied. Each serving of soup has 250 calories and, for a complete meal, serve this soup with leftover chicken or turkey!
Pumpkin is a highly nutrient-dense food packed with fiber and rich in tryptophan, which helps your body produce melatonin and promotes better sleep. Chestnuts are starchy, sweet, rich in flavor, and contain high levels of essential fatty acids, vitamin C, minerals, such as potassium, copper, and magnesium, amino acids, and antioxidants.
From the Shop
Creamy Pumpkin & Chestnut Soup Recipe
Prep Time: 15 min | Cook Time: 40 min | Serves: 6
+ 2 1/2 cups (350 g) chestnuts, peeled
+ 3 cups (675 g) pumpkin, peeled, seeded and cubed
+ 1 diced potato
+ 1 onion, cut into wedges
+ 4 cups (1 liter) homemade vegetable stock
+ 3 tbsp olive oil
+ 2 tsp sea salt
+ 1/2 tsp nutmeg
+ roasted pumpkin seeds to serve

To cook and peel chestnuts: Cover chestnuts with water, bring to a boil, and simmer for 5 minutes. Remove from heat and peel off the shell and skin with a sharp knife, while they're still warm.
To roast pumpkin seeds at home: Preheat oven to 350ºF (180ºC). Scrape the seeds from the pumpkin, pull the strings of flesh and rinse the seeds clean. Spread them evenly over a large baking tray and season with olive oil, sea salt to taste, and our homemade Indian seasoning. Mix together so all the seeds are well coated and bake in the oven for 10 minutes, or until seeds are lightly golden brown. Leave to cool and store in an airtight container.
Sauté onion and pumpkin in olive oil for about 3 to 5 minutes. Add chestnuts, diced potato, and cover with homemade vegetable stock. Bring to a boil, reduce heat to low, and simmer for 35 minutes. Puree the soup using a food processor or blender, return to pan, and season with sea salt and nutmeg. Bring to a boil again, remove from heat and serve with roasted pumpkin seeds. Enjoy!
| | | | |
| --- | --- | --- | --- |
| calories | carbs | fat | protein |
| 225 | 37.5 g | 9.2 g | 2.3 g |
| | |
| --- | --- |
| calories | 225 |
| carbs | 37.5 g |
| fat | 9.2 g |
| protein | 2.3 g |
Baked avocado boats with eggs and smoked salmon are a match made in brunch heaven! Not only is this recipe healthy, but it is also gluten-free …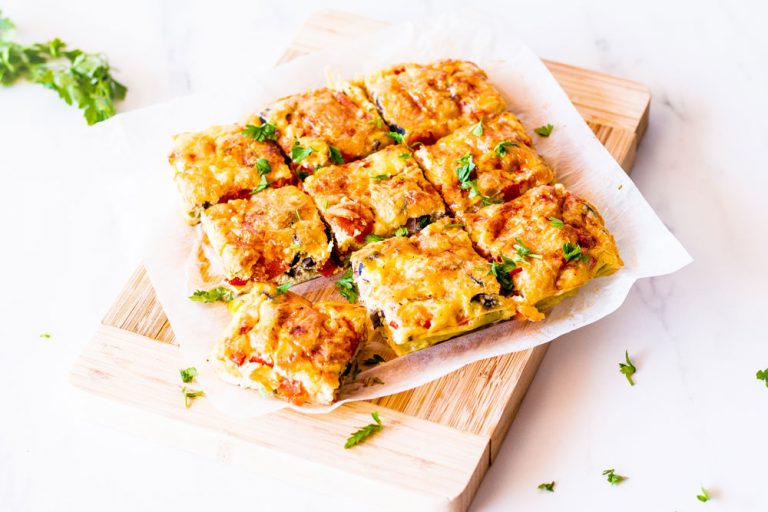 Delicious hot or cold, this easy 30-Minute Baked Egg Frittata with veggies is an efficient way to turn leftover ingredients into …
This garlic shrimp in tomato sauce with cauliflower mash is a low carb, easy to make recipe, that's packed full of flavor! Cauliflower mash …