These Creamy Cheddar, Rice and Beef Stuffed Peppers are one of those feel-good meals that are perfect for weeknight dinners. Our classic recipe is loaded with creamy rice, high-protein ground beef, a delicious tomato and oregano sauce, and a crisp cheddar topping!
You can stuff peppers with lots of different ingredients. Cauliflower rice, corn, beans, roast chicken, mushrooms, turkey …. They're the ultimate leftover vehicle, that just satisfies!
From the Shop
Creamy Cheddar, Rice & Beef Stuffed Peppers Recipe
Prep Time: 15 min | Cook Time: 35 min | Serves: 6
+ 6 bell peppers, cut in half and with cores removed
+ 2 tbsp olive oil
+ 1 onion, diced
+ 3 garlic cloves, minced
+ 2 tbsp tomato paste
+ 1 lb (450 g) ground beef
+ 1 cup brown rice, cooked (learn here how to soak and cook whole grains)
+ 2 tomatoes, diced
+ 1 tsp dried oregano
+ sea salt and freshly ground black pepper, to taste
+ 1/2 cup cheddar cheese, shredded
+ 1/4 cup fresh parsley, coarsely chopped

Preheat oven to 400ºF (200ºC). Prepare the peppers and place them top side up in a baking pan. Coat the inside with olive oil and season with salt and pepper. Roast until just undercooked and firm, about 20 minutes.
Meanwhile, start the stuffing by cooking onion in olive oil until soft, about 5 minutes. Add garlic, tomato paste and cook another minute. Add ground beef and cook until no longer pink, 6 minutes. Then stir in cooked rice and diced tomatoes. Season with oregano, salt, and pepper. Let simmer until liquid has reduced, about 5 minutes.
Remove peppers from the oven, spoon beef mixture into each pepper and top with cheese. Bake for 15 more minutes. Garnish with parsley before serving and enjoy!
| | | | |
| --- | --- | --- | --- |
| calories | carbs | fat | protein |
| 301 | 18.8 g | 13.1 g | 27.8 g |
| | |
| --- | --- |
| calories | 301 |
| carbs | 18.8 g |
| fat | 13.1 g |
| protein | 27.8 g |
Baked avocado boats with eggs and smoked salmon are a match made in brunch heaven! Not only is this recipe healthy, but it is also gluten-free …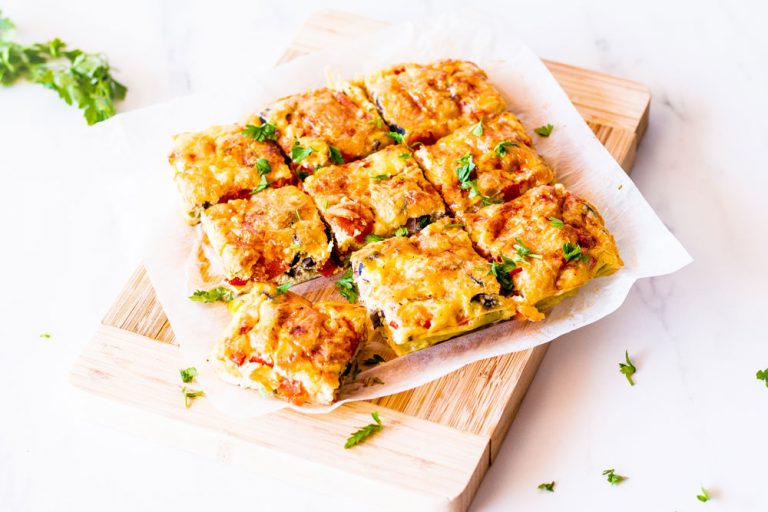 Delicious hot or cold, this easy 30-Minute Baked Egg Frittata with veggies is an efficient way to turn leftover ingredients into …
This garlic shrimp in tomato sauce with cauliflower mash is a low carb, easy to make recipe, that's packed full of flavor! Cauliflower mash …