Embrace quinoa's sweet side with this creamy breakfast quinoa with banana and mango. It's totally healthy, super delicious and, in our opinion, the new breakfast of champions!
Quinoa is usually served in savory dishes, but it also makes a wonderful breakfast cereal. It's gluten-free, high in protein, and perfect for taking a break from your oatmeal routine. For this recipe, instead of cooking quinoa in water with a pinch of salt, you're going to cook the quinoa in almond milk and then add honey and a sprinkle of cinnamon.
From the Shop
Creamy Breakfast Quinoa with Banana & Mango Recipe
Prep Time: 10 min | Cook Time: 15 min | Serves: 2
Quinoa layer
+ 1/2 cup quinoa
+ 1 cup almond milk (DIY recipe here)
+ 1 tsp honey
+ pinch of cinnamon
+ 1 tbsp walnuts, roasted and finely chopped

Banana layer
+ 1 banana
+ 1/4 cup kefir (DIY recipe here)

Mango layer
+ 1/2 small ripe mango

To make the quinoa layer: Rinse the quinoa under cold running water. Tip into a pan and add milk. Place over medium heat and bring to a boil. Reduce heat and let simmer for 15 minutes, or until all the milk is absorbed. Remove from heat and add honey, cinnamon, and walnuts. Mix well and pour into 2 serving bowls.
To make the banana layer: In a small bowl, mash the banana and then mix in kefir.
To make the mango layer: Peel the mango, remove the seed and cut into small chunks. Add the mango pulp to a blender and mix until smooth.
Evenly spoon banana mash over quinoa layer and then top with mango. Enjoy!
| | | | |
| --- | --- | --- | --- |
| calories | carbs | fat | protein |
| 377 | 64.8 g | 8.3 g | 14 g |
| | |
| --- | --- |
| calories | 377 |
| carbs | 64.8 g |
| fat | 8.3 g |
| protein | 14 g |
Baked avocado boats with eggs and smoked salmon are a match made in brunch heaven! Not only is this recipe healthy, but it is also gluten-free …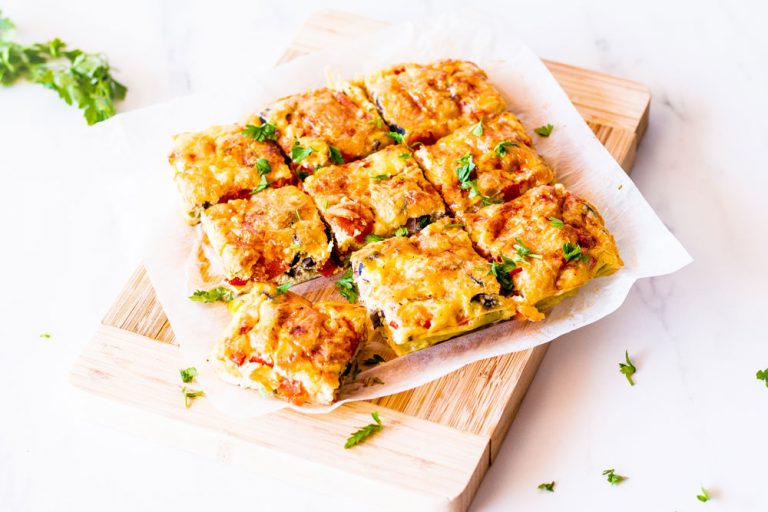 Delicious hot or cold, this easy 30-Minute Baked Egg Frittata with veggies is an efficient way to turn leftover ingredients into …
This garlic shrimp in tomato sauce with cauliflower mash is a low carb, easy to make recipe, that's packed full of flavor! Cauliflower mash …