Looking for a nutritious snack with homemade chocolate? Bite into our coconut, popped quinoa, and almond granola bars to enjoy an ideal combo of sweet and salty! This whole grain bar is made with 2 super grains, oats, and popped quinoa, plus cacao nibs, a superfood rich in magnesium, flavonoids, and tryptophan.
Not only are these bars great for on-the-go, but they are also the perfect pre-workout snack. Make them on your meal prep day and take them out and about during the week. The toppings of melted chocolate and coconut are totally optional, but they do add an extra yummy finish to the granola bars.
From the Shop
Coconut, Popped Quinoa & Almonds Granola Bars Recipe
Prep Time: 10 min + refrigeration time | Cook Time: 5 min | Yields: 14 bars
+ 1 cup old-fashioned rolled oats
+ 1 cup popped quinoa
+ 1/2 cup unsweetened desiccated coconut
+ 1 cup almonds, chopped
+ 1 tbsp cacao nibs
+ 1/2 cup homemade tahini
+ 1/2 cup raw honey
+ 1/4 tsp sea salt

Toppings:
+ melted homemade chocolate
+ desiccated coconut

Heat a pan and dry roast oats and nuts separately over low heat, taking care not to burn them. Let cool down completely.
Line an 8 x 8 inch (20 x 20 cm) square pan with parchment paper. Mix oats, popped quinoa, coconut, chopped almonds, and cacao nibs in a large bowl until combined. In a small bowl, mix the honey with tahini and sea salt. Drizzle the tahini cream on top of the oats mixture and stir until everything is evenly coated.
Spread mixture into the pan, then press down using a rubber spatula, so bars come together. Refrigerate for 30 minutes, then cut into 14 bars and drizzle homemade chocolate and coconut on top. Enjoy!
| | | | |
| --- | --- | --- | --- |
| calories | carbs | fat | protein |
| 178 | 18.3 g | 11.2 g | 4.1 g |
| | |
| --- | --- |
| calories | 178 |
| carbs | 18.3 g |
| fat | 11.2 g |
| protein | 4.1 g |
Baked avocado boats with eggs and smoked salmon are a match made in brunch heaven! Not only is this recipe healthy, but it is also gluten-free …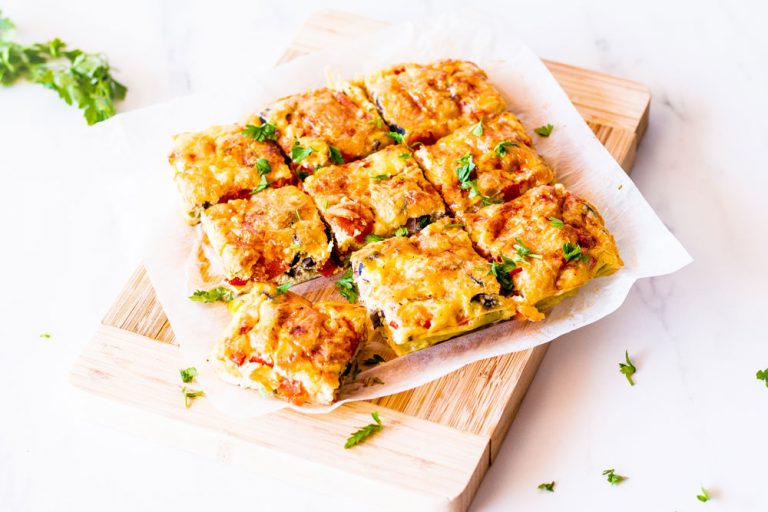 Delicious hot or cold, this easy 30-Minute Baked Egg Frittata with veggies is an efficient way to turn leftover ingredients into …
This garlic shrimp in tomato sauce with cauliflower mash is a low carb, easy to make recipe, that's packed full of flavor! Cauliflower mash …