Say hello to your new cheat day treat! These decadent chocolate, peanut butter, and crunchy granola ice cream cups are vegan, gluten-free, refined-sugar-free, and they're tastier than most store-bought ice cream. Plus, this recipe is as easy as it is delicious- no ice cream maker required!
Don't be afraid to get experimental with this recipe! You can substitute the granola topping with crumbled nut cookies, crispy crumbs, or chocolate granola. And you can also replace the chocolate layer with mashed berries, peanut butter, or chocolate-hazelnut spread!
From the Shop
Chocolate, Peanut Butter & Crunchy Granola Ice Cream Cups Recipe
Prep Time: 15 min + freeze time | Cook Time: 0 min | Serves: 5
Chocolate layer
+ 1 tbsp raw cacao powder
+ 2 tbsp coconut oil, melted
+ 2 tbsp maple syrup

Ice cream layer
+ 1 cup full-fat coconut milk
+ 1/4 cup peanut butter
+ 2 ripe bananas
+ 6 pitted dates

Granola layer
+ 1/2 cup rolled oats
+ 1/2 cup peanuts, toasted
+ 6 pitted dates

To make the chocolate: Melt the coconut oil and combine it with honey and cacao powder. Divide the chocolate between 5 serving cups and set aside.
To make the ice cream layer: In a high-speed blender or food processor, combine the coconut milk, peanut butter, bananas, dates and blend until smooth and creamy. Pour the coconut-peanut butter mixture on top of the chocolate layer and set aside.
To make the granola: In a food processor, combine the oats, peanuts, and dates and pulse until the mix is finely ground. Sprinkle the granola over the tops of the coconut-peanut butter mixture and freeze until firm, about 6 hours.
Thaw ice cream 8 to 10 minutes at room temperature before serving. Enjoy!
| | | | |
| --- | --- | --- | --- |
| calories | carbs | fat | protein |
| 480 | 48.3 g | 30 g | 10.9 g |
| | |
| --- | --- |
| calories | 480 |
| carbs | 48.3 g |
| fat | 30 g |
| protein | 10.9 g |
Baked avocado boats with eggs and smoked salmon are a match made in brunch heaven! Not only is this recipe healthy, but it is also gluten-free …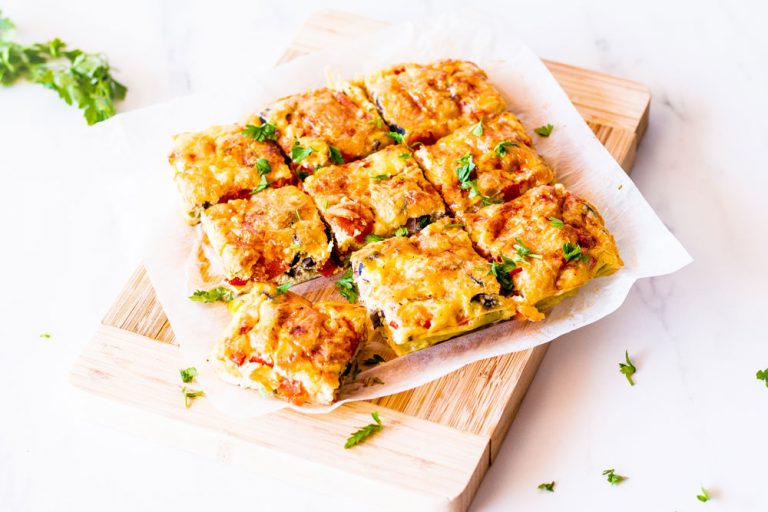 Delicious hot or cold, this easy 30-Minute Baked Egg Frittata with veggies is an efficient way to turn leftover ingredients into …
This garlic shrimp in tomato sauce with cauliflower mash is a low carb, easy to make recipe, that's packed full of flavor! Cauliflower mash …