Do you struggle with sweet cravings and find it hard to resist sugary snacks? You're not alone! Quitting sugar cold turkey might seem like a good idea, but it can be drastic and unsustainable. Fortunately, there are healthier alternatives that are equally delicious and satisfying. Our Chocolate Coconut Energy Bites recipe is a perfect solution to your snacking woes!
These scrumptious bites are packed with wholesome and nourishing ingredients that will not only satisfy your cravings but also provide an energy boost. They're quick and easy to make, taking only five minutes, with no cooking required. Whether you're looking for a snack or a healthy dessert, our Chocolate Coconut Energy Bites are the perfect guilt-free treat.
From the Shop
Chocolate Coconut Energy Bites Recipe
Prep Time: 5 min | Cook Time: 0 min | Yields: 24 bites
+ 3/4 cup almonds
+ 1 tbsp flaxseed meal
+ 1 tbsp hemp seeds
+ 3/4 cup rolled oats
+ 1/4 cup raw cacao powder
+ pinch of sea salt
+ 14 dates
+ 2 tbsp coconut oil
+ 2 tbsp shredded coconut
Add the almonds to a food processor and process for 30 seconds. Add the flaxseed meal, hemp seeds, oats, cacao powder, and sea salt. Process for another 30 seconds, until blended. Add dates and coconut oil and process for about 2-3 more minutes, until the mixture is well blended.
Take a spoonful of the mixture and roll between your hands to form a small ball. Then roll each ball into the shredded coconut and coat evenly. Store these energy bites in an airtight container in the fridge for up to one week. Enjoy!
| | | | |
| --- | --- | --- | --- |
| calories | carbs | fat | protein |
| 60 | 6.8 g | 3.5 g | 1.6 g |
| | |
| --- | --- |
| calories | 60 |
| carbs | 6.8 g |
| fat | 3.5 g |
| protein | 1.6 g |
Baked avocado boats with eggs and smoked salmon are a match made in brunch heaven! Not only is this recipe healthy, but it is also gluten-free …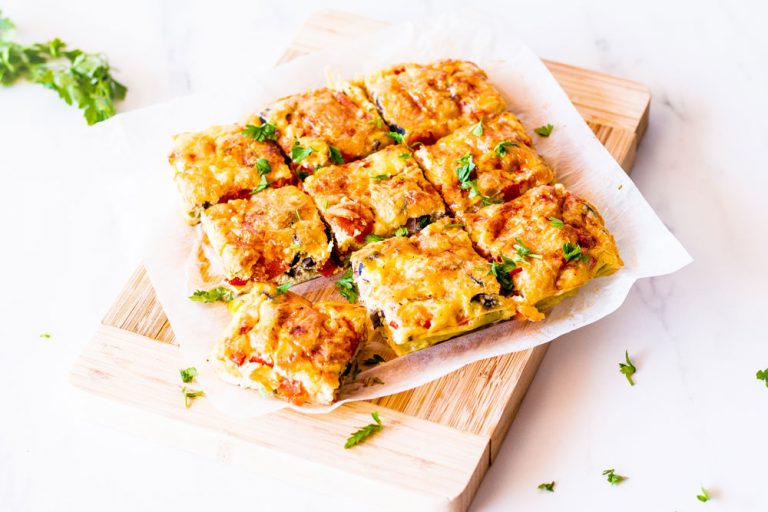 Delicious hot or cold, this easy 30-Minute Baked Egg Frittata with veggies is an efficient way to turn leftover ingredients into …
This garlic shrimp in tomato sauce with cauliflower mash is a low carb, easy to make recipe, that's packed full of flavor! Cauliflower mash …