This vegan chickpea curry with pumpkin and spinach is a healthy lunch idea, perfect for helping you curb those mid-afternoon or late-night cravings. It triggers a sensation of fullness in both your brain and your belly and keeps you energized, balanced, and in control of your emotions throughout the day.
Many studies have shown that consuming foods high in resistant starch, such as beans, legumes, whole grains, fruits, and vegetables, triggers the release of fullness hormones in the intestine and makes cells more sensitive to insulin. This minimizes hunger and food cravings, speeds up the metabolism, and encourages fat burning, especially in your belly.
There's plenty of unhealthy low-carb diets out there but the truth is that not all carbs are bad for you and eating a diet packed with the right kind of carbs can actually help you eat less, burn more calories, feel more energized, less stressed, and consequently helps you get and stay slim.
From the Shop
Chickpea Curry with Pumpkin and Spinach Recipe
Prep Time: 10 min | Cook Time: 40 min | Serves: 6
In a large sauté pan, heat the coconut oil over medium heat until it melts, then add the chili, mustard seeds, chili spice mix, paprika and let cook for 1 minute to release the oils. Add the onion, garlic, ginger, and cilantro and sautée for 2 or 3 minutes.
Pour in Hokkaido pumpkin and stir for 1 to 2 minutes. Add the coconut milk, let boil, then pour in chickpeas. Reduce to simmer and let cook for 30 minutes.
Add spinach leaves, stir well, cook for 5 more minutes, then remove from heat.
Serve with buckwheat wraps, rice, coconut yogurt, and fresh lime. Enjoy!
| | | | |
| --- | --- | --- | --- |
| calories | carbs | fat | protein |
| 620 | 60.3 g | 38 g | 18.6 g |
| | |
| --- | --- |
| calories | 620 |
| carbs | 60.3 g |
| fat | 38 g |
| protein | 18.6 g |
Baked avocado boats with eggs and smoked salmon are a match made in brunch heaven! Not only is this recipe healthy, but it is also gluten-free …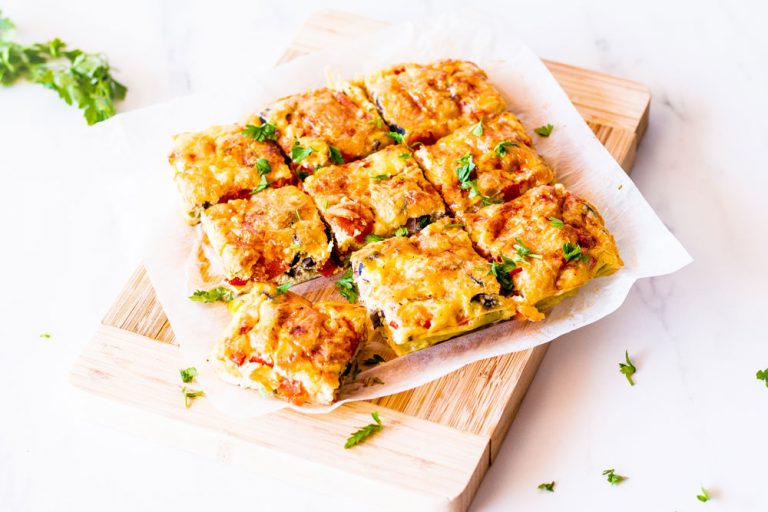 Delicious hot or cold, this easy 30-Minute Baked Egg Frittata with veggies is an efficient way to turn leftover ingredients into …
This garlic shrimp in tomato sauce with cauliflower mash is a low carb, easy to make recipe, that's packed full of flavor! Cauliflower mash …