Can't resist a chicken curry but are trying to cut down calories? Then forget takeaways and start making your curries at home. This deliciously rich Chicken Tikka Masala with Homemade Curry is easy to make, and it's tastier than takeout, too!
To bring flavor and warmth to this recipe, we used our simplified version of the famous Indian spice mix, Garam Masala. It can be used as a base in many Indian dishes, like curry, roasted veggies, soups, stews, rice, and samosas.
From the Shop
Chicken Tikka Masala with Homemade Curry Paste Recipe
Prep Time: 10 min | Cook Time: 30 min | Serves: 3
Curry Paste
+ 1 onion, quartered
+ 3 garlic cloves
+ 1 tbsp fresh ginger, peeled
+ 2 tsp garam masala (homemade recipe here)
+ 1 tsp ground cumin seeds
+ 1 tsp ground turmeric
+ 1/2 tsp ground coriander seeds
+ 1/4 tsp cayenne pepper
+ 1/2 tsp sea salt
+ 2 tbsp olive oil
+ zest of 1 lemon

Chicken Tikka Masala
+ 1 pound (450 gr) boneless skinless chicken breast, cubed
+ 1/4 cup Greek yogurt
+ 3/4 cup water or homemade vegetable stock
+ 1/4 cup coconut milk
+ 2 tbsp tomato paste

For serving
+ fresh cilantro
+ cooked rice

To make the curry paste: Add all the ingredients to a food processor and mix until a paste forms.
To make the chicken: In a large bowl, combine 2 tablespoons of the curry paste, the chicken and the yogurt, and let marinate at room temperature for 30 minutes or refrigerate overnight.
In a large skillet, heat remaining curry paste on medium heat for about 1 minute. Stir in chicken, water, coconut milk, and tomato paste. Bring to a simmer, cover and cook for 15-20 minutes.
Remove the lid and simmer, stirring occasionally, for about 10 more minutes, until the sauce reduces and thickens slightly.
Garnish with cilantro and serve the chicken over rice. Enjoy!
| | | | |
| --- | --- | --- | --- |
| calories | carbs | fat | protein |
| 344 | 9.5 g | 18.4 g | 35.2 g |
| | |
| --- | --- |
| calories | 344 |
| carbs | 9.5 g |
| fat | 18.4 g |
| protein | 35.2 g |
Baked avocado boats with eggs and smoked salmon are a match made in brunch heaven! Not only is this recipe healthy, but it is also gluten-free …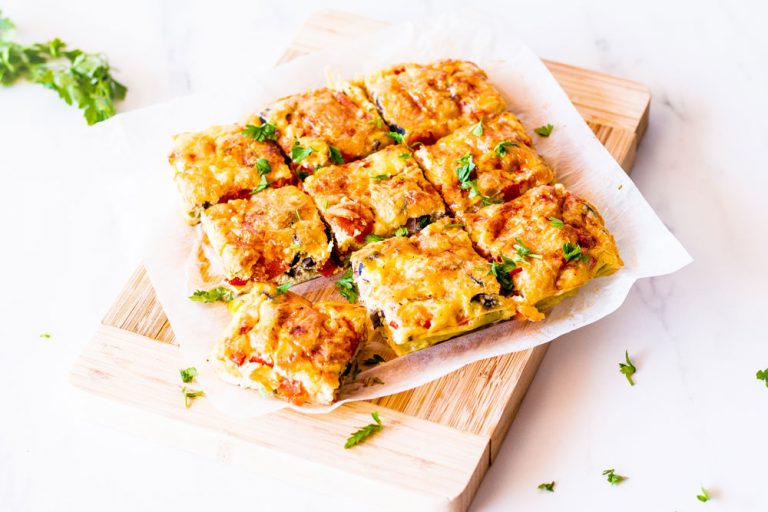 Delicious hot or cold, this easy 30-Minute Baked Egg Frittata with veggies is an efficient way to turn leftover ingredients into …
This garlic shrimp in tomato sauce with cauliflower mash is a low carb, easy to make recipe, that's packed full of flavor! Cauliflower mash …