Finely chopped red bell pepper and parsley add color to these Chicken Cheddar Stuffed Portobello Mushrooms. This recipe is very low in carbs and, since these mushrooms are also wheat-free, they are compatible with keto and gluten-free diets.
Portobello mushrooms are naturally low in calories and high in B and D vitamins. They're healthy, flavorful, and can be good vehicles for delivering heavier and more flavorful foods like cheeses or leftover cooked meat. They are also a great substitute for bread in any sandwich and make the perfect burger bun.
To learn more about mushrooms and their health benefits, you can check our guide to seasonal fruits and veggies (members-only).
From the Shop
Chicken Cheddar Stuffed Portobello Mushrooms Recipe
Prep Time: 10 min | Cook Time: 20 min | Serves: 2
+ 4 Portobello mushrooms
+ 1/2 red onion, diced
+ 2 garlic cloves, minced
+ 1/2 red pepper, diced
+ 1 cup leftover cooked chicken or turkey, chopped into small pieces
+ 1/4 cup fresh parsley, coarsely chopped
+ 1 cup shredded cheddar cheese, divided
+ sea salt and freshly ground black pepper, to taste

Preheat oven to 350ºF (175ºC). Wash the mushrooms and remove the stems. Add the chicken to a large bowl and toss with red pepper, red onion, garlic, parsley, salt, pepper, and half the cheese.
Add the filling to the mushroom caps then top with the remaining cheese. Bake in the oven for 20 minutes until the mushroom caps are cooked through and the cheese is melted. Serve and enjoy!
| | | | |
| --- | --- | --- | --- |
| calories | carbs | fat | protein |
| 371 | 8 g | 21 g | 36.4 g |
| | |
| --- | --- |
| calories | 371 |
| carbs | 8 g |
| fat | 21 g |
| protein | 36.4 g |
Baked avocado boats with eggs and smoked salmon are a match made in brunch heaven! Not only is this recipe healthy, but it is also gluten-free …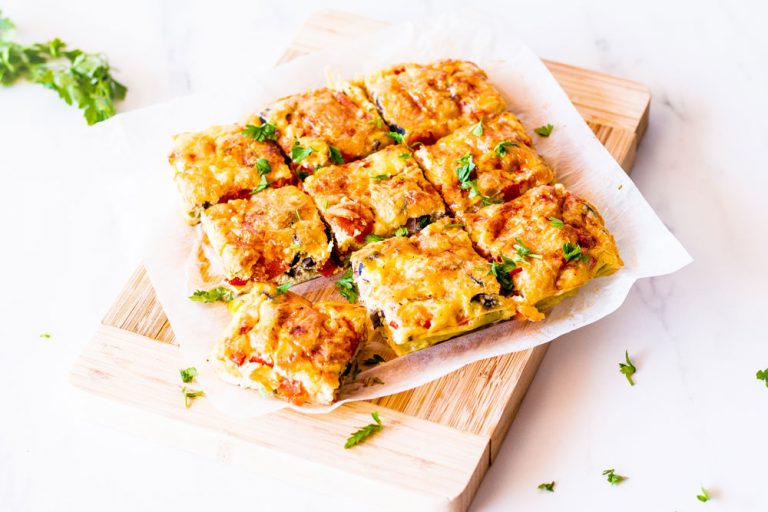 Delicious hot or cold, this easy 30-Minute Baked Egg Frittata with veggies is an efficient way to turn leftover ingredients into …
This garlic shrimp in tomato sauce with cauliflower mash is a low carb, easy to make recipe, that's packed full of flavor! Cauliflower mash …