We all love cookies and ice cream, right?! But we often associate both with weight gain and unhealthy eating habits. Not anymore! These Banana Nice Cream Oreos are made with healthy ingredients that are loaded with important nutrients that will help promote good health and better eating patterns.
These cookies are sweet enough, but if you're used to eating sweets that have high sugar content, you can add raw honey or pure maple syrup to the ice cream or to the cookie dough. To allow your taste buds to slowly adjust, reduce the amount of honey or maple syrup every time you bake these cookies.
From the Shop
Banana Nice Cream Oreos Recipe
Prep Time: 10 min | Cook Time: 10 min | Yields: 8 oreos
Cookies
+ 3/4 cup oat flour
+ 1/4 cup organic cocoa powder
+ 1/8 tsp baking soda
+ 1/8 tsp sea salt
+ 1 tbsp peanut butter
+ 1 organic egg
+ 14 pitted dates
+ 2 tbsp greek yogurt

Nice Cream
+ 1 ripe banana, sliced and frozen
+ 1/2 tbsp peanut butter

To make the cookies: Preheat oven to 350ºF (175ºC). Place the pitted dates, greek yogurt, egg, sea salt, and peanut butter in a blender and blend well until creamy. In a medium-size bowl combine oat flour, cocoa powder, and baking soda and stir into the creamed mixture until blended. Form small dough balls with your hands, place them onto a cookie sheet and, with moistened hands, slightly flatten the dough. Bake for 10 to 12 minutes in the preheated oven, and let cool for a couple of minutes on the cookie sheet before transferring to wire racks to cool completely.
To make the nice cream: Place the banana slices and the peanut butter in a blender and puree until the mixture is creamy and smooth.
Add teaspoon-sized blobs of ice cream to the center of one cookie. Place another cookie on top and gently press until the ice cream spreads evenly to the edge of the cookies. Continue this process until all the cocoa cookies have been sandwiched with the banana nice cream. Enjoy!
| | | | |
| --- | --- | --- | --- |
| calories | carbs | fat | protein |
| 144 | 28.3 g | 3.2 g | 4 g |
| | |
| --- | --- |
| calories | 144 |
| carbs | 28.3 g |
| fat | 3.2 g |
| protein | 4 g |
Baked avocado boats with eggs and smoked salmon are a match made in brunch heaven! Not only is this recipe healthy, but it is also gluten-free …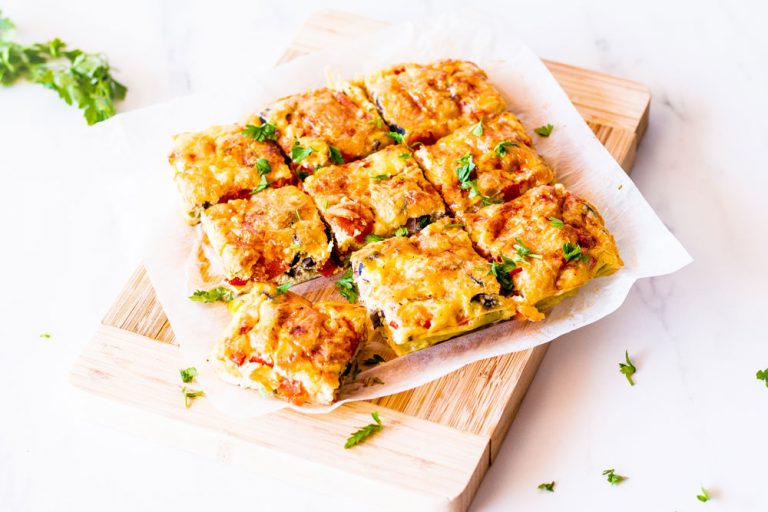 Delicious hot or cold, this easy 30-Minute Baked Egg Frittata with veggies is an efficient way to turn leftover ingredients into …
This garlic shrimp in tomato sauce with cauliflower mash is a low carb, easy to make recipe, that's packed full of flavor! Cauliflower mash …