Set yourself up for the day with this easy recipe of Baked Eggs with Mushrooms, Spinach & Parmesan Cheese. Each serving is loaded with healthy vitamins, minerals, protein and has only 161 calories!
Mushrooms help support the immune system, the calcium in spinach can help strengthen your bones, and both the eggs and Parmesan cheese are rich in protein, fat, and B-vitamins.
From the Shop
Baked Eggs with Mushrooms, Spinach & Parmesan Cheese Recipe
Prep Time: 5 min | Cook Time: 22 min | Serves: 4
+ 2 tbsp ghee or butter (homemade ghee recipe here)
+ 4 cups mushrooms, thinly sliced
+ 4-5 garlic cloves, minced
+ 1 tbsp fresh thyme leaves
+ sea salt and freshly ground black pepper, to taste
+ 3-4 cups baby spinach
+ 4 eggs
+ 4 tbsp freshly grated Parmesan cheese

Preheat oven to 400ºF (200ºC) and lightly grease 4 ramekins. Sauté mushrooms, garlic, and thyme in butter for about 3 to 5 minutes. Season with salt and pepper and stir in spinach. Cook until spinach is wilted, for about 2 minutes.
Divide the mushroom-spinach mixture between ramekins and top each one with an egg and grated parmesan cheese. Cook in the oven for about 15 minutes and serve immediately. Enjoy!
| | | | |
| --- | --- | --- | --- |
| calories | carbs | fat | protein |
| 161 | 4.9 g | 11.8 g | 10.7 g |
| | |
| --- | --- |
| calories | 161 |
| carbs | 4.9 g |
| fat | 11.8 g |
| protein | 10.7 g |
Baked avocado boats with eggs and smoked salmon are a match made in brunch heaven! Not only is this recipe healthy, but it is also gluten-free …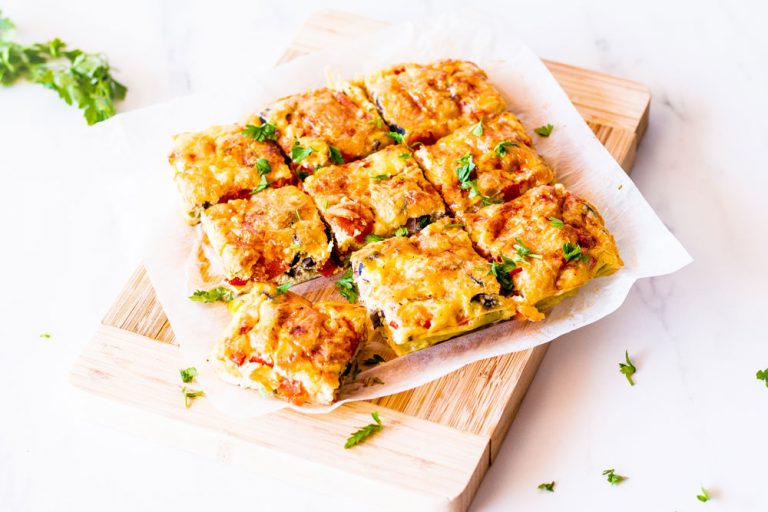 Delicious hot or cold, this easy 30-Minute Baked Egg Frittata with veggies is an efficient way to turn leftover ingredients into …
This garlic shrimp in tomato sauce with cauliflower mash is a low carb, easy to make recipe, that's packed full of flavor! Cauliflower mash …