Since this week we're focusing on protein, today's recipe features baked cod fish. This flaky white meat fish is packed with protein and is a great source of vitamins B3, B6, and B12, as well as heart-healthy omega-3 fatty acids. It's also very low in mercury, so it's safe for pregnant women and children.
If you're vegan, don't worry, we also got you covered! Two servings of the kale, beans, and cornbread crumbs pack a whopping 19.4 g of plant-based protein and only 455 calories!
From the Shop
Baked Cod Fish with Kale, Beans & Corn Bread Crumbs Recipe
Prep Time: 5 min | Cook Time: 10 min | Serves: 4
Baked cod:
+ 12 oz (340 g) cod fish
+ 1 tbsp olive oil
+ 1/2 tsp sea salt
+ 1/4 tsp freshly ground black pepper

Baked crumbs:
+ 2 cups red beans, cooked (learn here how to soak and cook beans and legumes)
+ 1 cup vegan corn bread, cut into small squares
+ 4 cups kale, stems removed and chiffonade
+ 4 garlic cloves, minced
+ 1 1/2 tbsp olive oil
+ sea salt and freshly ground black pepper, to taste

To make the fish: Preheat oven to 400°F (200°C) and lightly grease a baking dish. Lay cod filets in the baking dish, drizzle olive oil on top and season fish with salt and pepper. Bake in the preheated oven for about 10 minutes, until the fish flakes easily with a fork.
To make the crumbs: Preheat oven to 400°F (200°C). Transfer the beans, bread and kale to a big bowl, drizzle olive oil on top and season with garlic, salt, and pepper to taste. Toss to coat. Transfer to a baking pan and bake in the oven for a total of 10 minutes, until golden brown. Serve with the cod fillets and enjoy!
| | | | |
| --- | --- | --- | --- |
| calories | carbs | fat | protein |
| 307 | 34.1 g | 17.5 g | 22.5 g |
| | |
| --- | --- |
| calories | 307 |
| carbs | 34.1 g |
| fat | 17.5 g |
| protein | 22.5 g |
Baked avocado boats with eggs and smoked salmon are a match made in brunch heaven! Not only is this recipe healthy, but it is also gluten-free …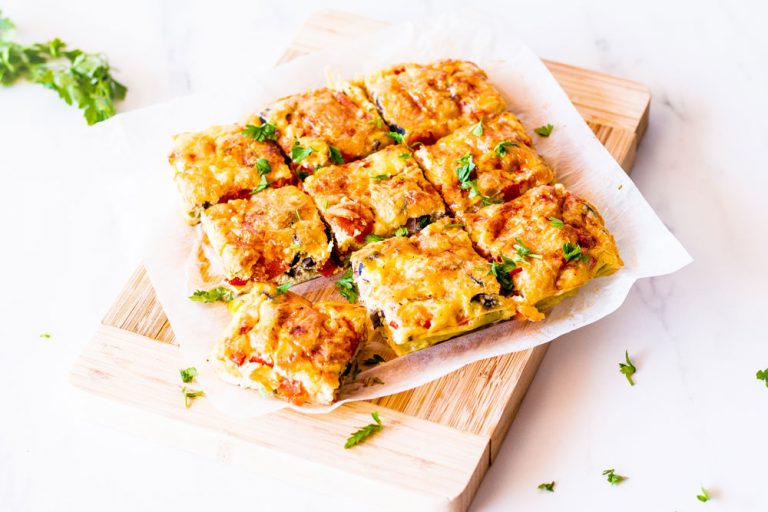 Delicious hot or cold, this easy 30-Minute Baked Egg Frittata with veggies is an efficient way to turn leftover ingredients into …
This garlic shrimp in tomato sauce with cauliflower mash is a low carb, easy to make recipe, that's packed full of flavor! Cauliflower mash …