Winter food doesn't get more comforting than this Bacon & Veggies Red Bean Stew. And much like warming soups and chilis, this stew delivers a complete meal in just one bowl. It also requires little preparation and cooks in just 30 minutes.
This is also a very economical dish, we used bacon for extra flavor and crispiness, but you can use any cut of meat or just simply skip the meat altogether and make a vegan version of this recipe.
From the Shop
Bacon & Veggies Red Bean Stew Recipe
Prep Time: 5 min | Cook Time: 30 min | Serves: 4
+ 1 tbsp olive oil
+ 5 oz (140 g) smoked bacon, diced into small pieces
+ 1 onion, diced
+ 1 green bell pepper, diced
+ 2 celery ribs, diced
+ 2 tbsp tomato paste
+ 3 garlic cloves, minced
+ 2 tsp cajun seasoning
+ 2 cups red beans, cooked (learn here how to soak and cook beans and legumes)
+ 1 carrot, shredded
+ 2 cups homemade vegetable stock
+ 1 tsp hot sauce
+ 1 bay leaf
+ sea salt and freshly ground black pepper, to taste
+ 1 cup spinach leaves

Heat olive oil in a deep skillet over medium heat. Add bacon, and cook, stirring frequently, until lightly browned, about 3-4 minutes. Set bacon aside.
In the same skillet, add onion, bell pepper, and celery. Cook, stirring occasionally, until tender, about 3-4 minutes. Stir in tomato paste, garlic, and cajun seasoning until fragrant, about 1 minute.
Stir in red beans, carrots, vegetable stock, hot sauce, and bay leaf; season with salt and pepper to taste. Bring to a boil, then reduce heat and simmer, covered, for 15 minutes, stirring occasionally.
Add spinach, stir and cook for 5 more minutes, until wilted. Serve immediately, topped with bacon, and enjoy!
| | | | |
| --- | --- | --- | --- |
| calories | carbs | fat | protein |
| 376 | 30.9 g | 20 g | 21.4 g |
| | |
| --- | --- |
| calories | 376 |
| carbs | 30.9 g |
| fat | 20 g |
| protein | 21.4 g |
Baked avocado boats with eggs and smoked salmon are a match made in brunch heaven! Not only is this recipe healthy, but it is also gluten-free …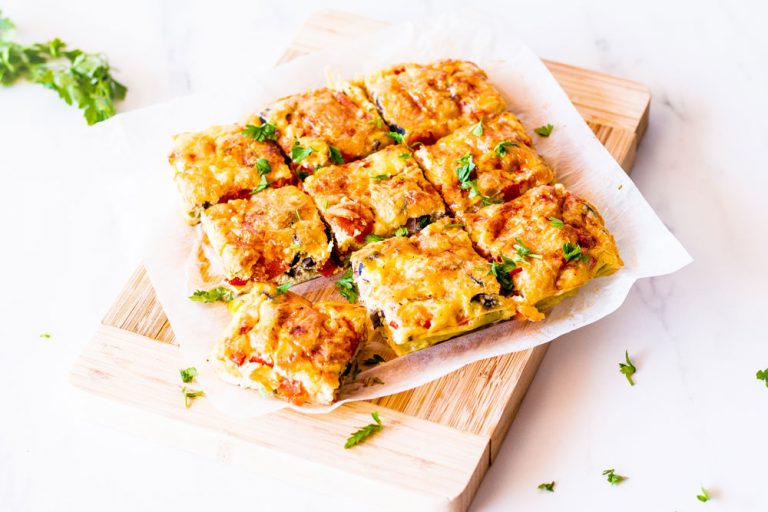 Delicious hot or cold, this easy 30-Minute Baked Egg Frittata with veggies is an efficient way to turn leftover ingredients into …
This garlic shrimp in tomato sauce with cauliflower mash is a low carb, easy to make recipe, that's packed full of flavor! Cauliflower mash …