If you are busy, tired, or if you just don't want to cook but are craving a delicious dinner that kind of cooks itself, then these 5-minute easy fish tacos are ideal for you. They're fresh, tasty, easy to make, and are ready in no time!
No cooking or baking is required, and if you have all the ingredients in your pantry, all you need to do is toss everything together and let the natural flavors work their magic! If you are vegan and/or gluten-free, use corn tortillas and replace the tuna with cooked beans. If you are trying to cut down calories, you can skip the avocado or the cashew nuts.
From the Shop
5-Minute Easy Fish Tacos Recipe
Prep Time: 5 min | Cook Time: 0 min | Serves: 2
+ 1 can tuna packed in olive oil, drained and flaked
+ 1/4 cup corn kernels
+ 1/4 cucumber
+ 1/2 medium tomato
+ 1/4 red onion
+ 1/2 avocado
+ 1/4 red bell pepper
+ 2 tbsp cashew nuts
+ 2 tbsp fresh cilantro, chopped
+ 1/2 tsp dried oregano
+ 1 tbsp olive oil
+ 1 tbsp lime juice
+ sea salt and freshly ground black pepper, to taste
+ 4 tortillas (DIY recipe here)

Finely dice the cucumber, tomato, onion, avocado, bell pepper and cashew nuts and add to a medium bowl. Mix in tuna, corn, and cilantro, drizzle olive oil and lime juice on top and season with oregano, salt and pepper to taste. Toss to coat. Assemble the tuna mix in the taco shells, serve and enjoy!
| | | | |
| --- | --- | --- | --- |
| calories | carbs | fat | protein |
| 640 | 61.1 g | 30.4 g | 35.4 g |
| | |
| --- | --- |
| calories | 640 |
| carbs | 61.1 g |
| fat | 30.4 g |
| protein | 35.4 g |
Baked avocado boats with eggs and smoked salmon are a match made in brunch heaven! Not only is this recipe healthy, but it is also gluten-free …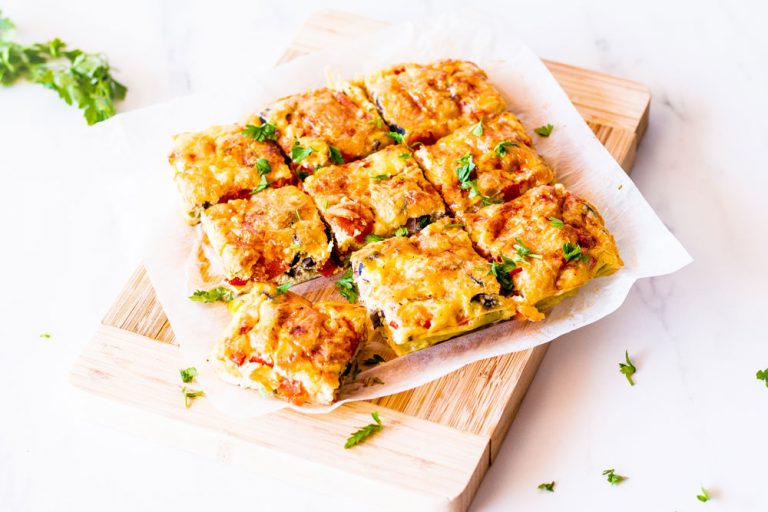 Delicious hot or cold, this easy 30-Minute Baked Egg Frittata with veggies is an efficient way to turn leftover ingredients into …
This garlic shrimp in tomato sauce with cauliflower mash is a low carb, easy to make recipe, that's packed full of flavor! Cauliflower mash …