Delicious hot or cold, this easy 30-Minute Baked Egg Frittata with veggies is an efficient way to turn leftover ingredients into an amazing meal. Mix the egg base with whatever leftover veggies you have in the fridge, and you'll end up with a yummy fluffy frittata every single time. Delicious!
Frittatas are also the perfect canvas for your favorite flavor combinations. Keep it simple with fresh herbs, give it an Italian flair with tomatoes, fresh basil, and mozzarella, or go Greek with spinach, olives, and feta cheese. The possibilities are endless, just dream up and try!
From the Shop
30-Minute Baked Egg Frittata with Veggies Recipe
Prep Time: 10 min | Cook Time: 20 min | Serves: 4
+ 8 free-range, pastured eggs
+ 1/2 red onion, cut into small cubes
+ 1 red pepper, seeded and thinly sliced
+ 6-8 cherry tomatoes, quartered
+ 10-12 black olives, thinly sliced
+ 1/4 cup cheddar cheese, grated
+ 1/4 tsp garlic powder
+ 1/2 tsp dried oregano
+ sea salt and freshly ground black pepper, to taste
+ fresh parsley, roughly chopped

Preheat oven to 350ºF / 180ºC. Lightly grease a deep roasting pan, then line the pan with baking paper.
Crack the eggs into a large bowl, add garlic, oregano, salt, and pepper and whisk well. Pour the egg mixture into the pan and scatter the onion, pepper, tomatoes, and olives over the eggs. Top with cheddar, then place in the oven to bake for about 20 minutes, or until the top is golden and the center is set.
Remove from the oven, let cool for 2-3 minutes, then cut into pieces. Sprinkle parsley on top and serve with a green salad. Enjoy!
| | | | |
| --- | --- | --- | --- |
| calories | carbs | fat | protein |
| 215 | 12.2 g | 12.7 g | 15 g |
| | |
| --- | --- |
| calories | 215 |
| carbs | 12.2 g |
| fat | 12.7 g |
| protein | 15 g |
Baked avocado boats with eggs and smoked salmon are a match made in brunch heaven! Not only is this recipe healthy, but it is also gluten-free …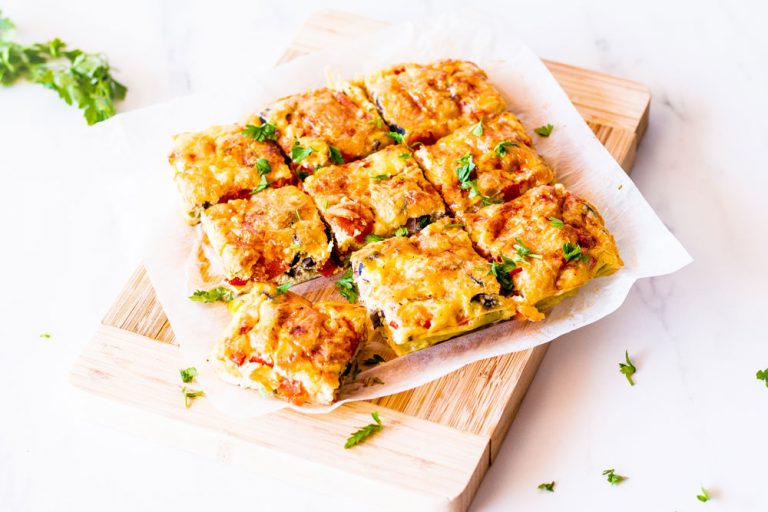 Delicious hot or cold, this easy 30-Minute Baked Egg Frittata with veggies is an efficient way to turn leftover ingredients into …
This garlic shrimp in tomato sauce with cauliflower mash is a low carb, easy to make recipe, that's packed full of flavor! Cauliflower mash …