This 20-Minute Creamy Pork Pad Thai Recipe is easy and simple enough for any aspiring Thai cook to make. A hearty, filling, comforting dish with tons of texture, protein, and big flavor!
Pad Thai is a flavorful dish commonly served as street food and at most restaurants in Thailand. It's extremely popular and consists of stir-fried pork, carrots, bean sprouts, and rice noodles coated with a delicious creamy peanut sauce.
From the Shop
20-Minute Creamy Pork Pad Thai Recipe
Prep Time: 10 min | Cook Time: 10 min | Serves: 4
Peanut sauce:
+ 1/4 cup water
+ 1/4 cup peanut butter
+ 3 tbsp soy sauce
+ 2 tbsp brown sugar
+ 2 garlic cloves, minced
+ juice of 1/2 lime
+ 1/2 chili pepper, thinly sliced

Pork & noodles:
+ 8 oz / 225 g rice noodles
+ 1 pound pork sirloin, sliced into strips
+ 1 tbsp olive oil
+ 4 garlic cloves, minced
+ 1 cup bean sprouts
+ 2 carrots, julienned
+ 1 red bell pepper, julienned
+ 1/4 cup peanuts
+ 2 tbsp fresh chives, thinly sliced
+ 1 tbsp sesame seeds, toasted

To make the peanut sauce: Place all the sauce ingredients into a jar, cover and shake until well combined.
To make the noodles: Bring a medium pot of water to a boil, remove the pot from heat, then add the noodles. Let the noodles soak until tender, about 5-6 minutes.
To make the pork pad thai: In a wok or large skillet, stir-fry pork, pepper and garlic in olive oil over medium-high heat for 5-6 minutes until browned. Stir in sprouts, carrots, noodles, and sauce and stir-fry for 1-2 more minutes. Remove from heat, top with peanuts, chives, and sesame seeds and serve. Enjoy!
| | | | |
| --- | --- | --- | --- |
| calories | carbs | fat | protein |
| 517 | 36.6 g | 29.4 g | 32.1 g |
| | |
| --- | --- |
| calories | 517 |
| carbs | 36.6 g |
| fat | 29.4 g |
| protein | 32.1 g |
Baked avocado boats with eggs and smoked salmon are a match made in brunch heaven! Not only is this recipe healthy, but it is also gluten-free …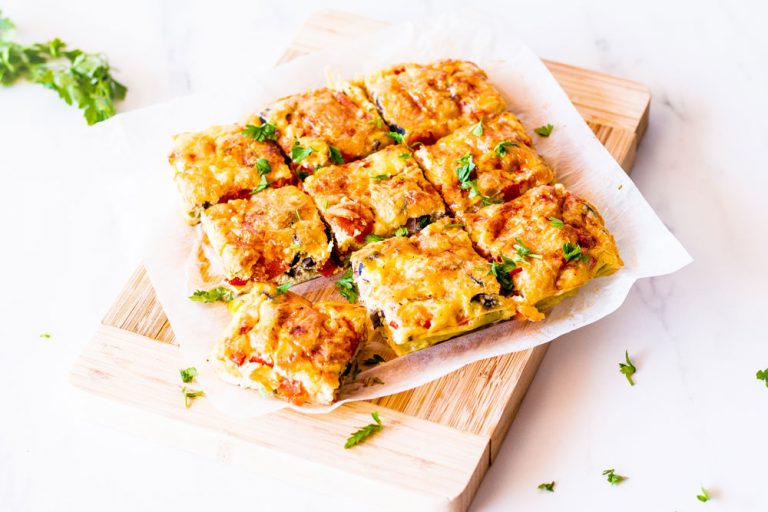 Delicious hot or cold, this easy 30-Minute Baked Egg Frittata with veggies is an efficient way to turn leftover ingredients into …
This garlic shrimp in tomato sauce with cauliflower mash is a low carb, easy to make recipe, that's packed full of flavor! Cauliflower mash …