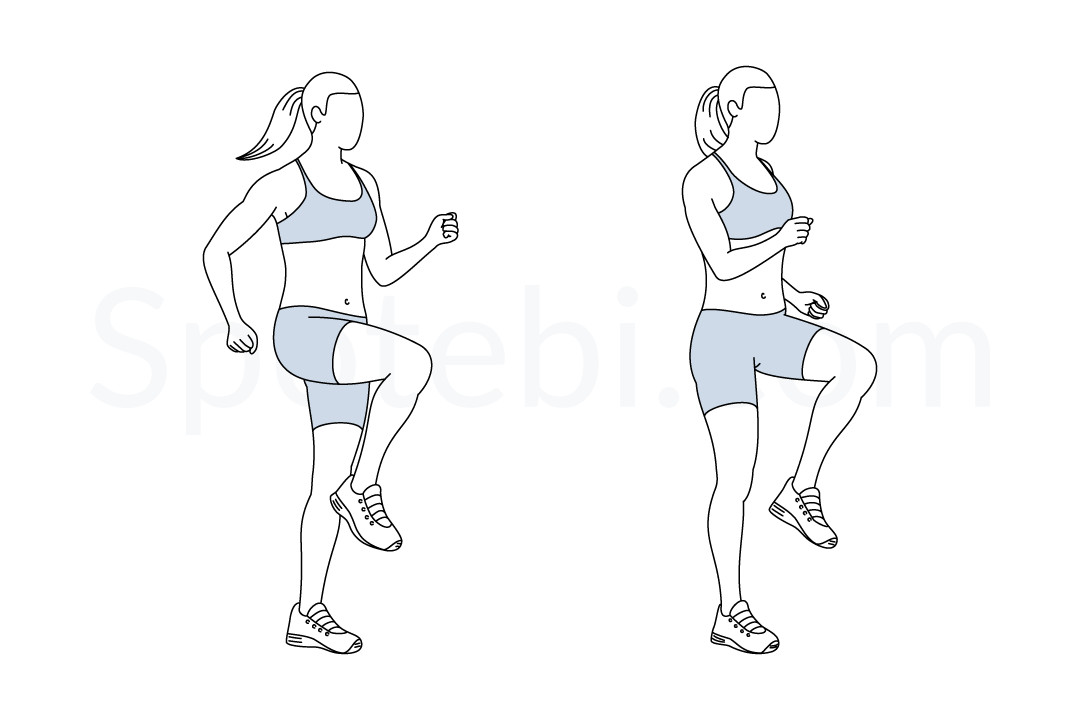 Primary muscles: Legs
Secondary muscles: Abs, glutes, arms, back
Equipment: No equipment
Run In Place Instructions
1. Stand straight with your feet shoulder-width apart and face forward, opening up your chest.
2. Start pulling your knees up, and slowly land on the balls of your feet.
3. Repeat until the set is complete.
Proper Form And Breathing Pattern
Keep your knee joints loose, your chest open, and face forward. Engage your core muscles and pull your knees up, landing slowly on the balls of your feet. Keep your breathing as normal and as steady as possible.
From the Shop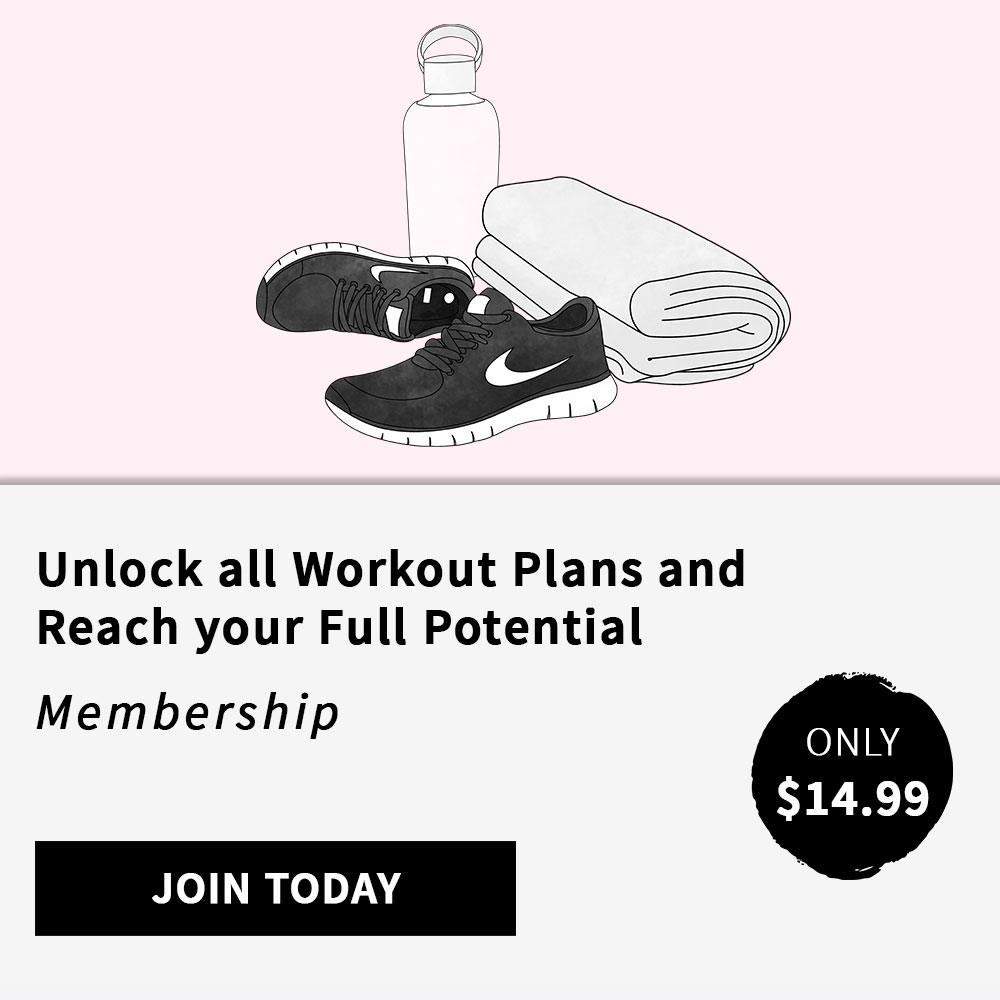 Exercise Benefits
Running or jogging in place is an effective cardiovascular exercise that warms up the body, burns calories, and increases aerobic fitness. The convenience of this exercise is quite obvious, you can run in place anywhere and at any time, and get the same health benefits as you would with regular jogging.
Run In Place Demonstration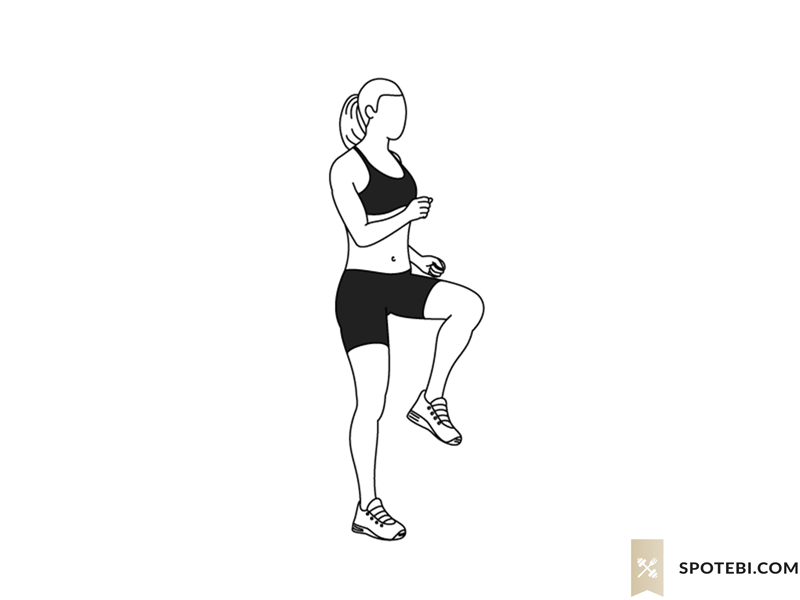 Sets And Reps
As with any other exercise, it's always important to start slowly. Once you're comfortable and accustomed to jogging in place, you can increase the level of difficulty by lifting your knees slightly, as if you were performing the high knees exercise. If you want to work arms and legs at the same time, just grab a set of light dumbbells and start running.
Calories Burned
To calculate the number of calories burned while you run in place, enter your weight and the duration of the exercise:

Related Warm Up Exercises
Try these other warm up exercises to increase your heart rate and prepare your body for a workout:
Butt kicks
Jumping jacks
Boxer squat punch
Alternating side lunge touch
Flatten your abs and blast calories with these 10 moves! A belly fat burner workout to tone up your tummy, strengthen your core, and …
Want to know the secret to a perfect booty? Try this Brazilian butt workout to shape, lift and firm your booty fast! A 30-minute at-home exercise routine to tone …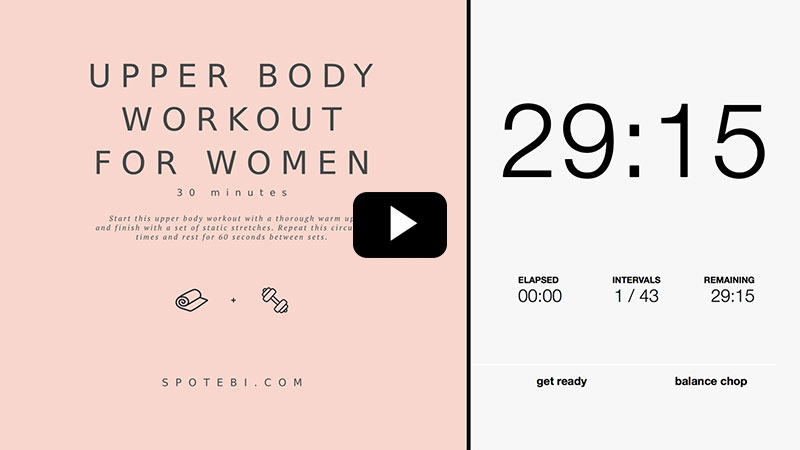 Look your best and get your arms, shoulders, back, and chest in tip-top shape with this 30-minute upper body workout. This strength …