Lizard Pose Instructions
1. Start in downward dog pose and step your left foot forward between your hands and slightly to the left.
2. Lower your hips, walk your hands forward and come down onto your forearms.
3. Stay in lizard pose for 30 seconds and then repeat with the opposite leg.
Mindfulness Practice
Keep the focus on your breathing, look straight ahead, lengthen the spine and draw your shoulder blades together. Feel the stretch in the hips and groin area, go slowly and be careful not to push your body beyond its limits.
From the Shop
Utthan Pristhasana Benefits
The lizard pose stretches the groin area, opens the hips, hamstrings and hip flexors, strengthens the legs, and prepares the body for deeper hip openers. This pose also helps to revitalize the body, boosts the metabolism, and relieves stress and anxiety.
Contraindications
Legs, hips, or back injury.
Preparatory, Complementary and Follow-Up Poses
Start with downward dog or warrior II pose and then progress to lizard pose. Follow-up with pigeon pose or chair pose.
Related Yoga Poses
Try these other yoga poses to relax and relieve stress and tension:
Half frog pose
Wide legged forward bend twist pose
Extended side angle pose
Head to knee forward bend pose
Flatten your abs and blast calories with these 10 moves! A belly fat burner workout to tone up your tummy, strengthen your core, and …
Want to know the secret to a perfect booty? Try this Brazilian butt workout to shape, lift and firm your booty fast! A 30-minute at-home exercise routine to tone …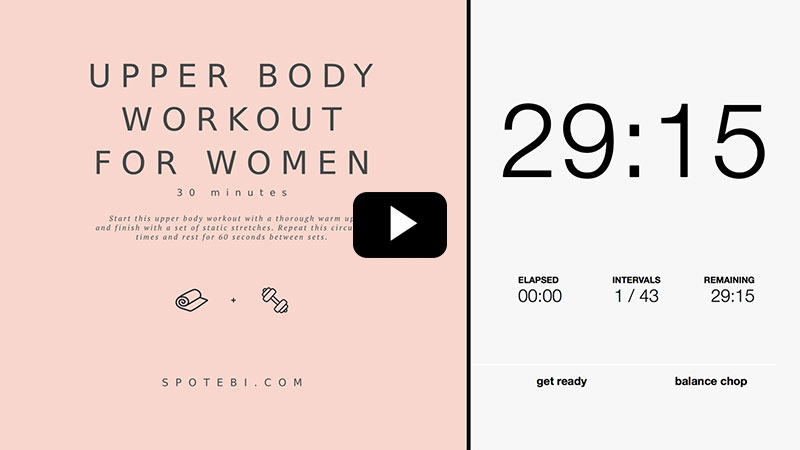 Look your best and get your arms, shoulders, back, and chest in tip-top shape with this 30-minute upper body workout. This strength …