Low Plank Pose Instructions
1. Start in plank pose with your hands under the elbows and the elbows under the shoulders.
2. As you exhale, roll forward on your toes and bend your elbows until your arms form a 90-degree angle.
3. Stay in Chaturanga Dandasana for 15 to 30 seconds.
Mindfulness Practice
Keep your core engaged, your abs pulled in, and maintain your elbows close to your torso. Pull your shoulders away from your ears, look forward, and maintain your torso and legs in line and parallel to the floor. If you don't have enough core strength, or if you feel tired, keep your core engaged, lower your knees to the floor and work on maintaining proper alignment.
From the Shop
Chaturanga Dandasana Benefits
The low plank is a great yoga pose to tone your abs, trim the waist and strengthen your arms, shoulders, and wrists.
Video Demonstration
Contraindications
Pregnancy or carpal tunnel syndrome.
Preparatory, Complementary and Follow-Up Poses
Start with Adho Mukha Svanasana or plank pose and then progress to Chaturanga Dandasana. Follow-up with upward facing dog or downward facing dog pose.
Related Yoga Poses
Try these other yoga poses to relax and relieve stress and tension:
Upward facing dog pose
High lunge pose
Plank pose
Knees chest chin pose
Flatten your abs and blast calories with these 10 moves! A belly fat burner workout to tone up your tummy, strengthen your core, and …
Want to know the secret to a perfect booty? Try this Brazilian butt workout to shape, lift and firm your booty fast! A 30-minute at-home exercise routine to tone …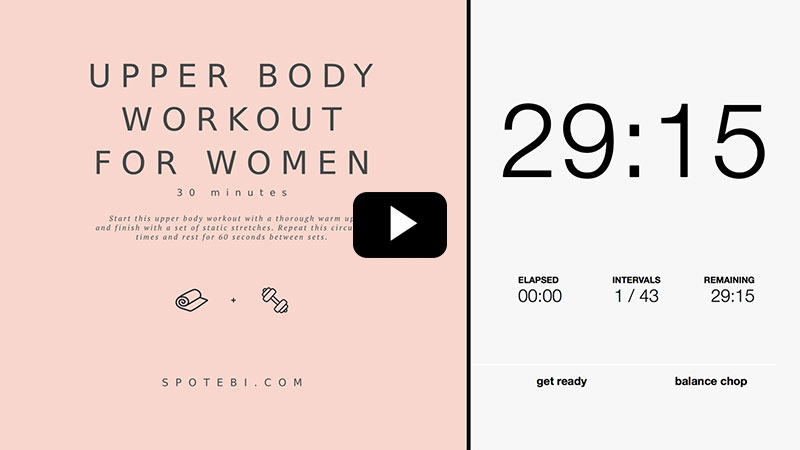 Look your best and get your arms, shoulders, back, and chest in tip-top shape with this 30-minute upper body workout. This strength …